Before the old Forum crashed, there was a thread in mid-July (viewtopic.php?f=1&t=6879&hilit=Partizan) that talked about finding 32 ACP cartridges with an Igman headstamp (IK 03 7.65x17) in a Prvi Partizan (PP) box marked "Made in Serbia" and mixed with nny loads. There was a lot of speculation, including mine, but no very good ideas on how these cartridges got in a PP box. I had seen a photo, from Crotia, of a 9mmP headstamped IK 03 9x19, and was hoping that perhaps this may have gotten mixed with some PP loads also. In mid-July I went looking for PP ammo but it was not available on any of the sites I visited, so I backordered 9x19 (124gr & 115gr), 380 and 32ACP from Midway. This past week the ammo finally arrived at Midway and they called mid-week to see if I was still interested. I got the ammo Friday. Given the circumstances of the buy there can be little doubt that this is the ammo that PP is shipping out as new ammo in the fall of 2009.
The three headstamps are illustrated below. The 9mm boxes were all the current PPU headstamp which I first saw in early 2008, but I was delighted to see that the 32 was entirely the IK 03 headstamp. The IK ammo also had a red pa which is no longer used by PP on their current commercial pistol ammo I see.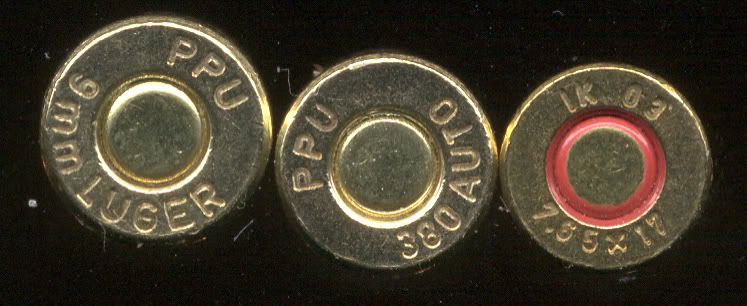 The boxes were all the current PP labels and all said "Made in Serbia" on the back. Note that there are loading dates/lots on the inside end flap. The 115gr 9x19mm box was marked "0943". Note the 32 box which was shipped in mid-09 is marked with an 03 date!!! This is clearly an indication of when the ammunition was loaded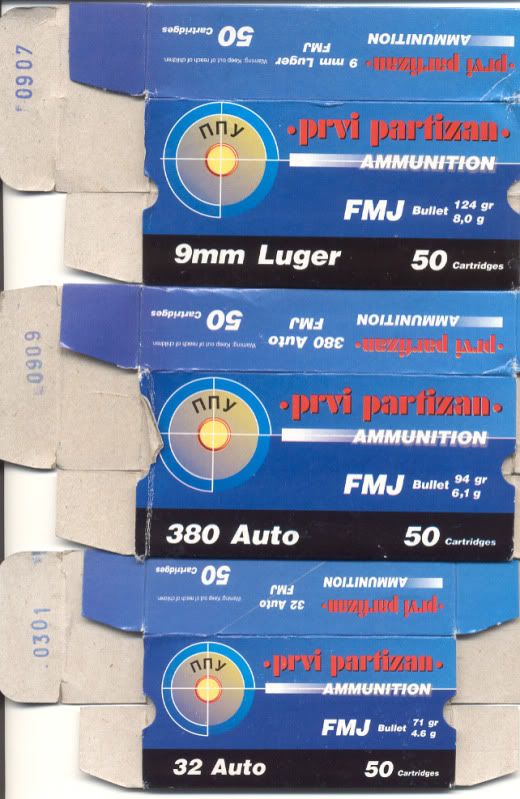 I looked up some other boxes of PP commercial ammo in my collection with the following results
Monarch box: 0903 (obtained in 2009)
PPU 158gr box: 0501
SJ box (European distributor) 9701
Wolf Gold: 0601
Hansen Blanks: 8804
Hansen Ball: 8901
PP 25 round commercial: 8303
Lignose 25 round: 8303
It seems PP has been using the Date/Lot format to mark their commercial boxes for at least 26 years. The earlier PP boxes I have do not have a stamp like this.
The box inserts are interesting. The 9x19 and 9x17 are almost identical and are almost the same as those in the Monarch, PPU 158gr and SJ boxes. The 32 ammo was in 25 round trays of a completely different design. These trays are however the same design as the 25 round trays used for 9x19mm ammo in the 1980s.


So where are we? It looks to me like IK had a contract with someone in 2003 for both 32 ACP and 9x19, and perhaps other calibers. This may have been a police contract since the ammunition has a police/military format with the date. It seems to me that PP make a deal with whoever had this ammo (perhaps as excess) and picked it up and repackaged it as PP ammo, but retained the correct date of manufacture marking on the box. Perhaps the 32 was packed in 25round boxes before being repacked by PP.
I don't have any Igman 25 round boxes from the correct era so cannot compare inserts. The only Igman box I have is a pretty current HOTSHOT box which has a different date stamp, which is stamped so part of it missed the paper—no help. This box has a totally different black insert. John, perhaps you have Igman and PP 25 round boxes in 32 from the right era.
Cheers,
Lew