Hi,
I just recently acquired a collection of cartridges I don't know much if anything about other than what I have read in Cartridges of the World and The Cartridge Collectors Notebook. In fact, I am uncertain if I have them identified correctly. My tentative ID's are below.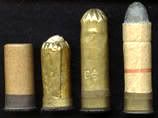 I originally thought this was a shotshell, but now I think it is a 577 Snider Mark IV blank.
I'm thinking this is a 577 Snider Mark III blank.
Is a 577 Snider brass coiled case shotshell. I have no idea what the marking on the case means. Anybody???
577 Snider military manufacture.
Can anyone please confirm or correct my identifications and anything else I may have missed.
Also any idea as to the value of these fine old cartridges would be appreciated.
Thank you.
Heavyiron