Recently I posted some strange 9mm cartridges that came from the estate of a local collector who recently passed away. Yesterday, I had an opportunity to help unload a storage locker he kept and look over the ammo in it. There were some good items like a DWM C04 German Navy 16rd box dated 7 Oct 1910, and a very early box of Peters HP cartridges and other very interesting rounds. Quite a few of the boxes were filled with modern rounds, apparently to help them hold their shape. The DWM box had one original cartridge-headstamped DWM K 9 10, and 15 modern Canadian cartridges.
The boxes I'd appreciate opinions on are:

The label reads
12 ctg. P-35
Firing Pin Test
And in a square at the bottom DOMINION ARSENAL, QUE.
In the box are four "9 MM 44" cases with snapped primers and a small hole in the side with a burned or corrosion area around the hole. The fifth round is identical, but the primer isn't snapped.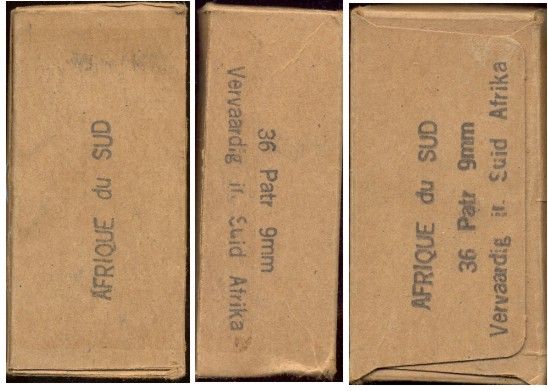 This box was sealed and when I opened it, there were 36 rounds of Musgrave 9mmP with red pa and headstamped O 9mm 8.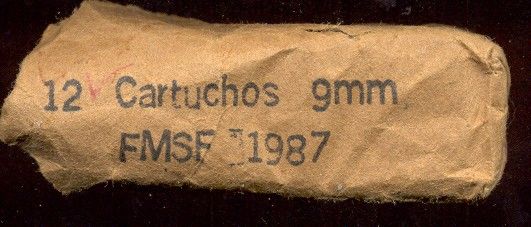 There were two packs of these, the opened one was filled with Wolf steel case ammunition. When I opened the sealed one the ammunition was headstamped 9X19 FMSF 05 87.

These labels are on the opposite ends of a box that looks like a German 15 round 7.9 box, but somewhat deeper. The box was empty. It is interesting to me since it indicates 115gr XM882 loads, but all the XM882 loads I know of are 124gr bullets. My FC 82 weighs 197gr oaw and my WCC 84 is 193gr oaw. Both appear to be 124gr loads.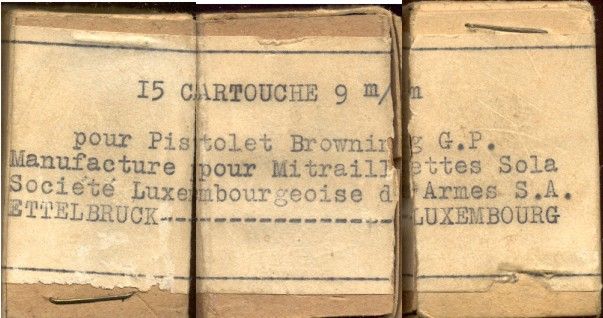 This box was open and filled with Czech cartridges with 1949 dates-apparently to hold the shape of the box.
Your opinions/ observations are requested.
Cheers,
Lew