In the beginning of WWII, the German ammunition manufacturers appeared to take a while to fall into line with the standards for ammunition marking, at least on 9mm P08 cartridges and boxes. One example is the box below.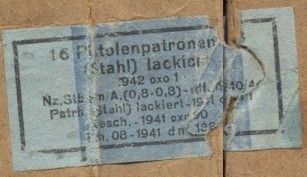 The first steel case production by oxo (Teuto Metallwerke G.m.b H.) appears to be lot 1 in 1941 and only one lot is known in 1941. The box above is load lot 1 of 1942 so it is still early oxo P08 production. It is interesting that they felt it necessary to add a line immediately below the caliber identification identifying these as lacquered steel case cartridges. This identification also occurs in lot 3 of 1941. Both of these lots use cases from Lot 1 of 1941. None of my later oxo boxes have this marking.
It would be interesting to know if this label style was used on boxes loaded in 1941. Does anyone have a 1941 dated oxo box of P08 ammunition. A photo would be greatly appreciated.
Cheers,
Lew