Steve–I find the company's selection of the German rounds to be interesting. I can't understand them leaving out the German equivalent to the U.S. .30-06, the 7.92x57 Mauser. I also think it is unusual to include the 7.92 x 95 Panzerbuchse, which is not really equivalent to the .50 BMG.
I find it interesting that only the US Army is mentioned. Didn't the USN, USMC, USAAF, and USCG use the same cartridges? And, AFAIK, none of the US Forces used a 30-06.
I wish them good luck in their sales. Anything to further the cause.
Ray
I also thought it strange that they included the Panzerbusche rd instead of one of the more common 13mm machine gun loads. Also, adding a 12ga all-brass shell would have been a nice touch to round out the American set.
Ron - They do have the 7.92x57 in the German set, but they just don't list it in the Wehrmacht list near the top. It looks like it is in the photo at bottom left though.
I'm guessing the use of the term "30-06" is just them yielding to the all too common after-market vernacular for the .30 cal load where the commercial designation has taken over.
Matt, 13mm would have been air force then.
here are some pictures of the 30-06 from their series.

The bullet is screwed onto the the "case". The case also isn't a real case but something machine-made
and very very heavy. Total "cartridge" weight is too heavy for my scale which goes up to 500 grain.
The case wall is 2mm strong at case mouth.
Headstamp is in black printing : TF REPLICA 30-06
and "primer" is totally red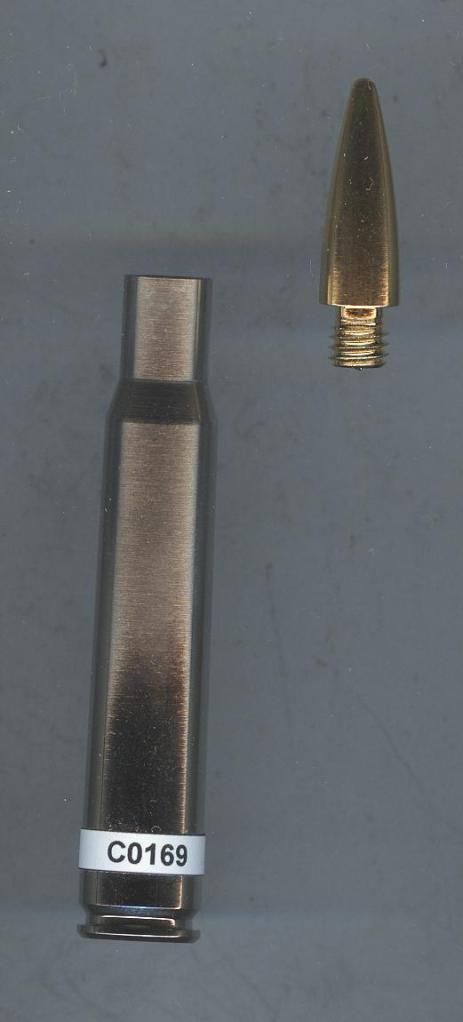 cheers
René
Here is a picture of my 30x173 collection

The right one comes from the technoframes website
Michel
I can see that the "Gatling" ones will encourage even more people to believe that the entire cartridge, case and all, comes out of the muzzle!
Gatling "Chain Gun", that's a new one on me!
gravelbelly