I have the following Iraq headstamps. These are VERY crude drawings of them. I tried to scan them but they were not very readable.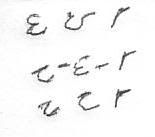 I need to know the actual transliteration of the Arabic letters and the words they stand for. Also, a translation of the words.
Are there any other Iraq headstamps on 7.62x39?