A number of years ago I bought out the remains of one of Buttweiler's bin sales at the Chicagoland Show.
There was enough stuff to almost fill a 20mm steel ammo box.
Everything was either a cartridge or cartridge related. Two items I have no clue as to that they are.
This is one of them.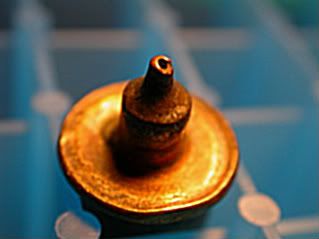 What is this and is it cartridge related?
Total Length: 1.352"
"Rim" Diameter: 0.533"
Base Diameter: 0.43-0.44"
Length "rim" to"top": 1.08"
Diameter protrusion from base: 0.19"
Weight: 164 grains (10.6 grams)
The "bullet" end appears to be soldered shut.
Any ideas or guesses as to what it is?
Thanks,
Paul