The rounds illustrated below are reputed to be Training loads. The green bullet loads have an overall weight of 115gr (longer blt load with green cms) and 112gr (shorter blt with roll cm crimp). The purple bullet load overall weight is 120gr.
In spite of the IMI headstamps, all specimens I know of came out of the UK and the bullet shape is very similar to the British made SPLAT loads (far right in pic of British Loads) and to the Ceramic bullet loads by Radway Green (or at least in RG cases) and other loads with exotic British bullets. The problem is that these loads all have an overall weight of 130gr to 150gr except for one with a Blue-Green bullet on the far left which weighs 118gr.
Based on these British loads, I suspect that the two with IMI headstamps are either purely British loads, or loads made in the UK for testing by Israel.
Can anyone shed some light on the origin and purpose of the loads with the IMI headstamps?
Cheers,
Lew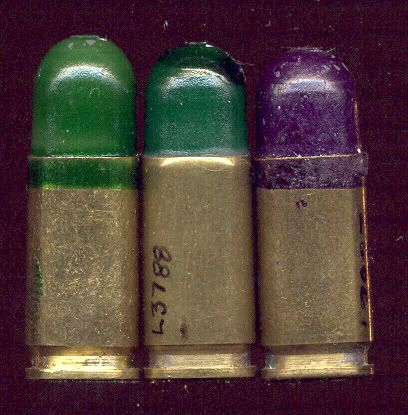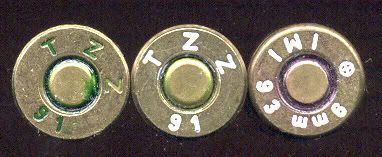 Similar British Loads: