I just re-ordered a new supply of .5-cc, 1-cc and 1.5c tranquilizer gun darts and thought I would post a few pics. They made a few really nice design upgrades since my last order, most noticeably a translucent body which is awesome. Some of the larger darts now utilize a triple needle port which injects medication or sedatives from both sides of the needle in addition to the main injection opening out the front.
I had a thread about this type of ammunition in the old/lost forum but figured I would kinda redo it here. In general, the way these darts work is at the tail end of each dart is a loose firing pin that floats inside a spring. Upon impact, inertia drives the firing pin into a small explosive charge which then in turn forces a rubber plunger up, thus delivering the darts contents. Upon impact, the tail end of the darts glow as a result of the explosive going off which is great at night and in shadows. It also lets us confirm that the dart went off ok and not to reuse it if has been detonated as they can only be used once to administer a drug. I save fired darts to use as TP and to adjust to power level of the gun to reduce the wallop of the darts impact on the animal to a minimum depending on distance, size of the dart and type of wildlife it is being used on :)
This photo shows a group of sedation darts. The older style has a colored plastic or metal body. The newer ones are translucent.

This pics show the newly designed .5-cc , 1.0-cc and 1.5-cc Darts with see threw body, there packaging and a scan of the front and back labels. They also made the needle thicker on the inside to improve needle bends on impact with thick skinned animals.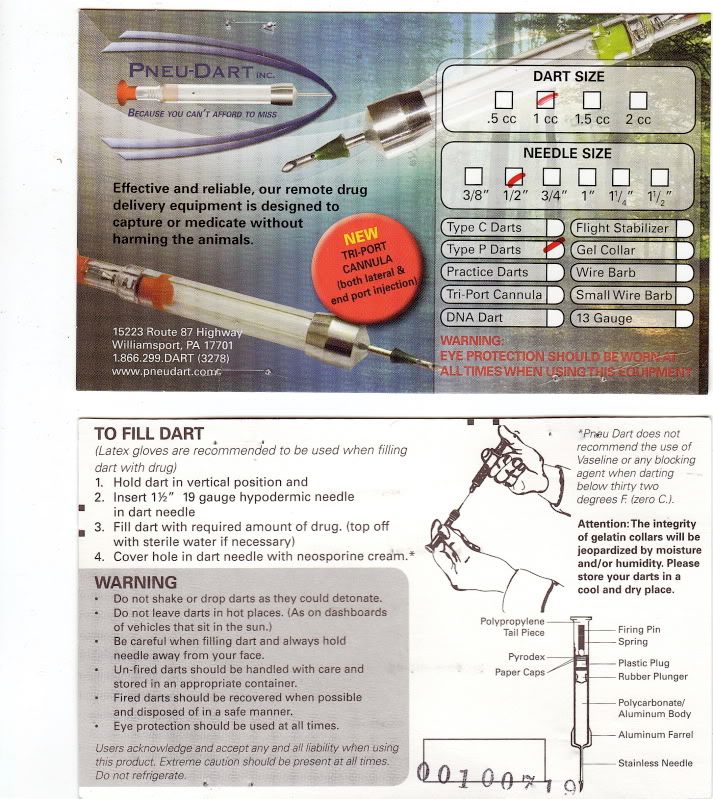 Jason