Does this "Round" have any serious military purposes or was it just posted as a hoax?.
I don't think it has ever been used by any military, but private owners of 40mm DDs in the US tend to like these as they're a cheaper alternative to flares or other non-practice rounds; IIRC, these use a primer to drive a plate with multiple firing-pins machined into it forward into the rims of the 22 LR cartridges chambered in the main body of the adaptor cartridge, so all the 22 rounds are fired at once, something like a buckshot cartridge. Here's a high-speed x-ray photo of one of these rounds being fired in an M79:
Is it my imagination, or are there a lot more bullets in that X-Ray than there are barrels showing on the same X-Ray, and some barrels with more than one bullet still in them? There's about 30 bullets in the X-Ray, and the cartridge shown has 18 barrels. What's happening with that?
It's not your imagination :-). I think the likely explanation is that this was a double exposure, so it shows 36 bullets instead of 18.
Back in the 1920s ( maybe even before) the French firm of Rival ( at St.Etienne) developed a .22 rimfire "Volley gun," called the "Buffalo Mitraille" patterned on the 1870s Montigny Mitrailleuse…multiple barrels all firing at once.
Great for shooting at a herd of Bunnies, or large birds, etc. on the ground.
So nothing new…just that instead of having a large bundle of .22 barrels together, we have a small shell plate to hold .22 RF cartridges, and virtually no barrels at all…not conducive to accuracy…really makes a "scattergun" out of a M203. The French gun was accurate out to 100 metres, as it had barrels over 20 inches in length.
Regards,
Doc AV
AV Ballistics.
THE U.S. 40MM MULTIPELLET PROGRAM WAS A PROTOCOL TO ALLOW THE USE OF THE M79 GRENADE LAUNCHER AS A CLOSE RANGE ANTIPERSONEL WEAPON AS WELL. SEVERAL TYPES WERE TRIED INCLUDING ONE SIMILAR TO THIS COMMERCIAL VERSION. SOME WERE "ONE FIRE" TYPES AND OTHER RELOADABLE. I HAVE PHOTOS OF SOME OF THESE AND WILL POST WHEN I SEE THEM NEXT. THEY WERE NOT DESIGNED FOR THE M203 IN THE MILITARY PROGRAM.
THEY PUT OUT QUITE A SPREAD OF LEAD BUT NEVER WENT TACTICAL AS THE ADDITIONAL WEIGHT WAS DETERMINED NOT TO BE PRACTICAL IN THE FIELD AND ANOTHER TYPE OF AMMO ( 2 TYPES FOR THE RELOADABLE) WAS NOT DETERMINED TO BE WISE EITHER.
I remember talking to a Veitnam Vet about that a couple of years ago. Apparently the military made a round that was effectively a big shotgun shell for the M-79/M-203 (which CSAEOD has mentioned.) Splintex is sounding familar but we were also talking about the artillery and i beleive Splintex rounds were for 105mm's. He also said something about the muzzle being slightly oval shaped IIRC.
That last one could be off e.g That could have been a stanard shotgun with modifed muzzle. The theory was that it would spread horizontally more than vertically. Does that sound familiar to anyone?
That sounds like a combination of two things that I know DID see use in Vietnam, the "Beehive" flechette artillery load, and the "duckbill" choke on some shotguns for close combat. The "Beehive" essentially turned an artillery piece into a huge shotgun that fired nail-like flechetts, while the "duckbill" (usually used on Ithaca 37s, IIRC) produced an oval shot pattern that was more likely to hit the enemy soldier being fired at. The "duckbill" was open at the sides, but enclosed at the top and bottom, so the shot pattern would begin to grow out sideways before it spread top to bottom.
THERE IS A TYPE CLASSIFIED SHOT SHELL FOR THE M79 AND MANY EXPERIMENTAL TYPES AS WELL AS FLECHETTE TYPES. I WILL POST SOME PHOTOS NEXT VISIT IF SOMEONE DOESN'T DO IT.
THE MULTIPELLET DEVELOPEMENT WAS LOOKING FOR A GREATER RANGE BUT THE SHOT LOAD TURNED OUT TO BE GOOD ENOUGH.
I HAVE ALL OF THIS STUFF ON MY VIDEO TAPES AND DVDs BUT HAVE NOT FIGURED OUT HOW TO GET STILL FROM THEM YET. IF I LIVE LONG ENOUGH I WILL.
This guy makes adapters for M203 owners
THANK YOU. SOME NEAT DESIGNS THERE.
THE FINAL MULTIPELLET DESIGN SHOWN HERE IS A MACHINED ALUMINUM BODY WITH MULTIBARRELS FIRING .22 RFS. THE HEAD IS STEEL AND THE DEVICE WORKS BY THE EFFECT OF A SINGLE PRIMER WHICH DRIVES A STEEL PLATE AGAINST SEVERAL FLOATING FIRING PINS WHICH IN TURN FIRE THE INDIVIUAL RF CARTRIDGES AS A VOLLEY. IT HAS A SAFETY PIN LIKE A GRENADE. THIS NEVER SEEMED NECESSARY TO ME BUT THAT WAS THE DESIGN.
THIS SINGLE USE DESIGN WAS THE FIRST OF THE MULTIPELLET EXPERIMENTALS . LOADED WITH .22RFS AND FIRED BY ONE PRIMER.
HERE ARE SOME ADDITIONAL 40MMS
LEFT TO RIGHT
1)MULTIPELLET
2)EXPERIMENTAL FLECHETTE CANNISTER
3)EXERIMENTAL SHOT- SILENCED , AAI , PLASTIC CASE.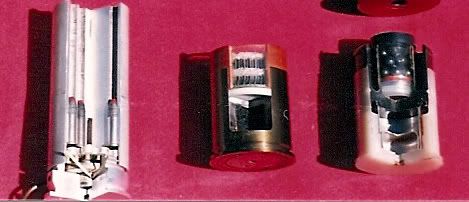 MORE
LEFT TO RIGHT , TOP TO BOTTOM
EXPERIMENTAL PLASTIC CASE TP
SECTIONED M79 BARREL WITH FLECHETTE ADAPTER
EXPERIMENTAL TP FOR GRENADE MG
ROCKET ASSIST H.E.
EXPERIMENTAL ROCKET ASSIST HE
ANOTHER
EXPERIMENTAL GAS
MULTIPELLET
EXPERIMENTAL FLECHETTE
EXPERIMENTAL SHOT - SEE ABOVE POST
AND MORE
PHOTOS LEFT TO RIGHT , TOP TO BOTTOM
PHOTO#1
EXPERIMENTAL SHOT
FIRED EXPERIMENTAL SILENCED SHOT
MULTIPELLET , SINGLE USE DESIGN
FLECHETTE EXPERIMENTAL ON FINAL TACTICAL SHOT CASE
DBACATA - AAI SILENCED EXPERIMENTAL - DISPOSABLE BARREL AREA TARGET AMMUNITION , GOLD ALUM. HEAD
SAME , SILVER
PHOTO#2
FIRED DBACATA SHOWING PRESSURE SPLIT-TYPICAL OF THIS DESIGN
SINGLE USE MULTIPELLET
EXPERIMENTAL SHOT
FIRED SILENCED EXPERIMENTAL SHOT - AAI
TACTICAL U.S. M79 SHOT LOAD
PHOTO#3 SEE POST ABOVE
PHOTO#4
EXPERIMENTAL PROOF SLUG
2+3) EXPERIMENTAL FUZES
REENFORCED HEAD EXPERIMENTAL CASE
TACTICAL SHOT CAPSULE FOR U.S. M79 SHOT
PHOTO#5
TACTICAL U.S. M79 SHOT CARTRIDGE AND SECTION - THE SHOT CAPSULE SITS IN A SABOT.
THIS IS A GREAT TIME TO BE COLLECTING 40MMS. MILITARY AND COMMERCIAL TYPES JUST KEEP ON COMING.
THESE ITEMS ARE OLD SCHOOL FROM THE 60S AND 70S.
FWIW: It is my understanding that the rocket-assisted rounds were deisgnated the XM534.