I just saw this box on auction with the red "Sammel" marking on the top.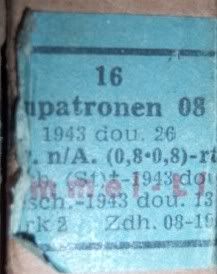 This box has normal ammo headstamped dou St+ 15 43.
I have a box with a similar marking with cartridges headstamped dou St 1 42.
I also have a box with "Sammel Lfg" printed on the label as a seperate line under the powder load. These cartridges are headstamped dou St+ 29 44.
I have disassembled rounds from both my boxes, both of which I got full. and I can find no difference between these and normal loadings, except for a single round in the 1942 box had a slight case dent under the lacquer.
I understand that the marking means Sample Loading, but what does the marking signify?
Dutch, do these show up on 7.92mm boxes?
Cheers,
Lew