In another thread (http://iaaforum.org/forum3/viewtopic.php?f=8&t=14979) Leon asked for images of some of the new 9mm headstamps I have added recently. The following are some I thought may be of interest. Some of these go back to the fall of 2013 but most are from the Spring German meeting and the recent Dutch and Czech Meetings as well as items I have picked up in the US.
There are still ones I am chasing. I am currently trying to find a source for the Nosler and Hotshot brass case headstamps. Any help on these welcome. Fede found me two sources for Nosler, but one is in Canada and the other in New Zealand. US stock appears to have been sold out!
I think I have found a source for the steel case Hotshot steel case rounds made in the Ukraine with "HOTSHOT" headstamps and the Pierce headstamped rounds, but have not received them yet.
There are probably a lot out there that I know nothing about.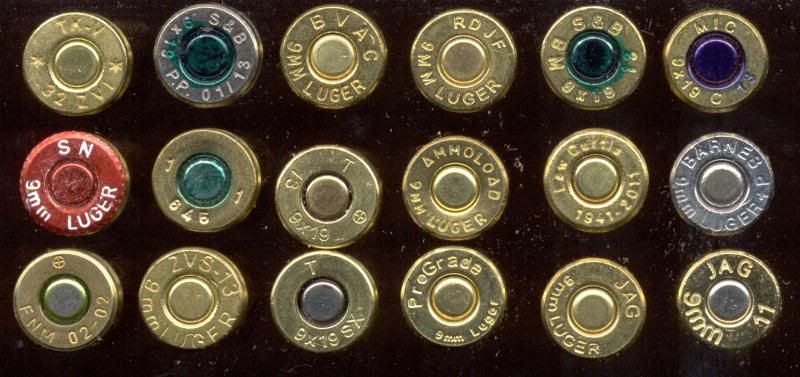 I think all these are headstamps I have not posted before. Following are a few comments on some of them beginning at top left corner of the photo. first digit is the row (1-3) and the second is the location in the row (1-6). These comments are what I understand and could be incorrect. Comments & corrections welcome!
1-1: by ZVS in Slovakia, reportedly using cases originally intended for a .32 bottle neck cartridge based on the 9x19mm case. Few if any of the .32 rounds were loaded as I understand, and the remaining cases were loaded as 9mmP. Our Slovak Forum members can probably correct this and tell you the real story!
1-2: Ni plated case-contract for Italian police
1-3: By Bitterroot Valley. They had told me that they had never used their BVAC on 9mm, then these turned up.
1-4: Mentioned in report from Czech meeting-S&B for Dominician Republic. What does RDJF stand for. I suspect the first two letters are "Republic Dominica" or something similar
1-5: Contract for Hungarian police
1-6: Like 1-4 was previously mentioned, but for Saudi Arabia. Fede identified the meaning of MIC. Cartridge corner has documented the same MIC code on 7.62 NATO from South Africa.
2-1: By Libra/Snail-shown in one of their catalogs from 2 or 3 years ago. I have only seen it in this proof load
2-2: Contract for Sweden by S&B - edited-see post below
2-3: New Thun headstamp from RUAG, but 220gr oaw so apparently a subsonic load.
2-4: Freedom Munitions load on AMMOLOAD case from this summer
2-5: Last year a very good Slovak friend surprised me with the headstamp for my 70th birthday!!! Looks a bit like a tombstone, but I will be 73 in a few months so am no longer worried that this may be a "Tombstone round" like the FA 30-06!!! This round was made by ZVS
2-6: Barnes headstamp previously mentioned on Forum
3-1: Portuguese headstamp, but the case was made and loaded by MFS in Hungary. I haven't compared it with earlier FNM production, but the lines making up the characters appear thinner to me. What year did FNM quit making ammunition??? The box was full when I got it but had to dump all but 10 rds to meet my 5kg weight restriction to get it back to US.
3-2:Another new headstamp this fall from ZVS
3-3: Another new Thun headstamp that I had not seen before. This one is from the recent ECRA meeting
3-4: Another new US headstamp. I think ProGrade is associated with BVAC
3-5&6: Jagmann cases used by Allegiance Ammunition (previously Extreme Shock). I think Jagmann (a case supplier) only dated their cases in 2010 and 2011. They told me in early 2012 that they were no longer going to date their headstamps. Note that they also make custom headstamps for customers.
Hope this is useful.
Any additions or corrections or comments welcome.
Cheers,
Lew