Upcoming Hot Shot ammunition made in Russia and Slovakia as shown in the latest Century International Arms catalog:
I am really surprised that manufacturers of 9 mm Parabellum to this day produce 115 gr and 124 gr variations in parallel, although the difference is purely academic.
I shoot lots of 9mm, and I usually find the 124 gr. a bit softer-shooting and more accurate. There is a definite difference.
Fede, do we know who in Russia is making these and if they have custom headstamps?
Alex, no idea, I couldn't find anything else about these new offerings.
Ok, so we will have to wait till actual boxes and cartridges will show up in the US.
Century already has Hotshot ammunition made by ZVS in Slovakia, and by Lugansk in Ukraine and by PMC Korea, Sadu Romania…etc etc…Many have hotshot headstamps. The one I have seen by ZVS also has a 1 on the headstamp…Lugansk also has an LU on the headstamp. The boxes are new and possibly they could change their headstamps, but why? I guess we will have to wait until some turns up… but betting they will be similar. Also curious as to who the Russian manufacturer is or if it is Lugansk (area under conflict).
Hotshot Headstamp by ZVS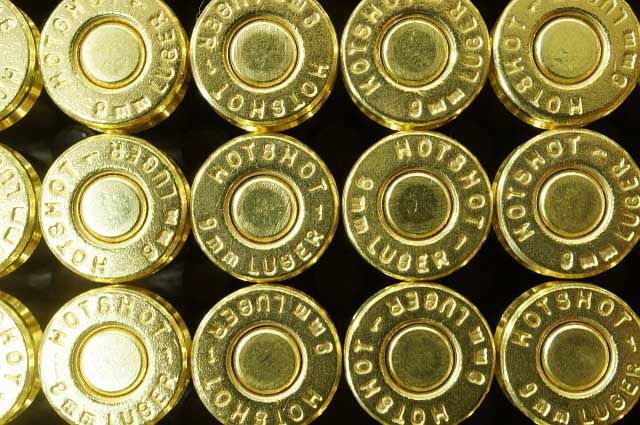 Link to headstamp discussion earlier as well…
viewtopic.php?f=8&t=16047
Thanks for the new photo's Fede…
added.
Also had some ammo made by PPU Serbia in the past. and Igman in Bosnia but had manufacturers headstamps…
We shall see then.
Lugansk (Ukraine) is not operational right now. No matter what the separatist propaganda is claiming in recent times.
If I didn't miss anything, these are the countries of origin found in HotShot and Red Army Standard brands:
HotShot: Bosnia-Herzegovina, Republic of Korea, Poland, Romania, Russia, Serbia, Ukraine and USA.
HotShot Elite: Poland, Romania and Slovakia
Red Army Standard: Romania, Russia and Ukraine
Red Army Standard Elite: Bosnia-Herzegovina and Poland
Fede, Is the PMC-made HOTSHOT ammo in pistol calibers? I have not seen it or heard of it, but of course, I pay little attention to any but auto pistol cartridges. If it is, can you picture a headstamp?
John, as far as I know, the Korean made HotShot was only offered in .223 Remington 55 gr FMJ with "HOT SHOT 223 REM" headstamp. It was added as a new product in October 2009.
Strange as it seems, the rarest HotShot ammunition is that made in USA in .223 Remington, .30 Carbine, .32 Auto, .38 Special, .380 Auto, .40 S&W, .45 Auto, and 9 mm Parabellum (all remanufactured). It was first mentioned in November 2003 but only listed in CIA's January 2004 catalog (not longer listed in following editions).
Regards,
Fede
I Can confirm the Korean made by PMC was only on .223 ammo.
I do have one case that I am unsure where it was made. Fede maybe you might know. It is .223 caliber but the headstamp reads "Hot" on top and "Shot" on the bottom. No caliber listed.
Curtis
Fede and Curtis - Thanks for the good information. As an auto pistol cartridge collector I had thought I had missed something. For me, it is good news that PMC only made the .223 in this brand.
A thought on the American-made "HOTSHOT" ammo. If "remanufactured," I would assume that means that they were reloads. If so, mixed, non-HOTSHOT headstamps. In the absence of box labels that would make them impossible to identify as "HOTSHOT." Also, many collectors do not save reloads. I don't unless the bullet is something very, very different or if found in a headstamp that I don't have in an original factory loading. That could explain a lack of collector interest and therefore not many retained specimens or th interest to post information about them. All just conjecture on my part, admittedly, since until Fede mentioned them, I have never heard of them.
One other possibility is that the catalog listing was in anticipation of the project, and that it never actually occured. Again, just a thought. No documentation of that in my hands!
John, examples of HotShot boxes made in USA are known to me in .38 Special, .40 S&W and .45 Auto, all marked "Completely Copper Coated Bullet" and "Made in U.S.A". The .32 Auto, 9 mm Parabellum and .30 Carbine are also reported to exist with the same markings.
Regarding headstamps, the .45 Auto is headstamped A-MERC 45 AUTO, which is also reported in 9 mm Parabellum (A-MERC 9 mm), .223 Remington (A-MERC 223 REM) and .30 Carbine boxes (A-MERC 30 CARB). Given that American Ammunition offered these same cartridges with a bullet designated "C3" (Complete Copper Coated), it is possible that this is actually factory ammo provided by A-Merc or maybe repacked by CIA.
It seems that most of this ammunition was put out of the market due to quality problems, which may explain why is practically unknown these days.
Regards,
Fede
The Red Army Ammunition used the headstamps of who made them, sometimes also used "Red Army" and "caliber". Some have LU on for Lugansk, some had M, for Mesko Poland. Others had "RAS" instead of a Red Army marking. One I have with RAS also has the caliber and then 14S on the headstamp: 14 for the year 2014 and S to denote it was made by Sadu, Romania.
The only 9mm Para I know in Hotshot boxes are as follows:
Romanian: normal SADU headstamp
Bosnia-Herzegovina: by Igman with "i" in broken circle headstamp-with and without dashes on headstamp
Ukraine:Hotshot by Lugansk with "LU" added to headstamp
Slovakia: Hotshot by ZVS with "1" added to headstamp
US: normal A-MERC headstamp. Looks like new productin and had the traditional large AMERC plastic tray-Looks like new ammo
If anyone has any others, please let me know.
Of course no Red Army 9mm Luger.
Cheers,
Lew
Lew, just to keep it straight, SADU is Romanian.
Of course! My mistake…
Thanks for the correction.
Lew
Fede, thanks!
Are maker and hs known?