Can anybody point me in the right direction regarding ID of a MG bolt and boltcarrier?
Soren
The thing is not here, I'll take some pics tomorrow.
-Soren
Posting the photos on any number of WWII forums, gun forums, German military forums, etc would probably work… Or just email Jim Haak who probably owns one: jim@northernarizonamunitions.com
Do you have any suspicion as to what it might be from?
[quote="DennisK"]Do you have any suspicion as to what it might be from?[/quote]Yes, something german or german inspired and that then could be anything…
It looks phosphated/parkerized, is about 145 mm long when put together and 38 mm wide over the back end away from the bolt.
First pic is with the two put together and the lock plunger in mid position (cylindrical thing through the carrier near the back end -towards the right-)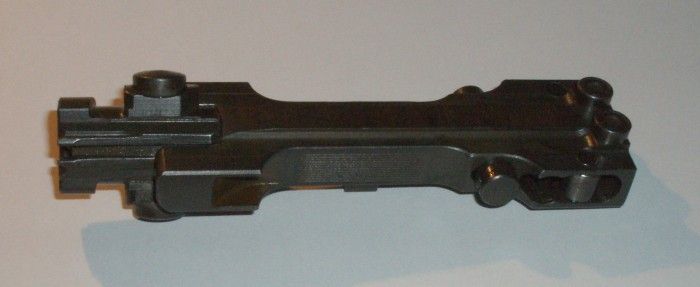 On the second they are still together but from above(?)


Third: taken apart to show the bolt and the lug running inside the carrier to make it rotate


Fourth from the other side



The bolt face is big enough to take the head of an 6,5x55. The firing pin looks stuck in the forward position.
I've looked at MG 34 and 18 + 81 and it does not look like any of them.
Maybe an H&K MG121 bolt???
By the size it is most likely a 7.62 Nato configuration… and with the rollers on top most likely belt fed…
just my 2 cents
That bolt is an H&K MG121 bolt. Basicly HK's version of a very modern MG42. Chambered in .308 and uses M13 links. Hope this helps.
Above info is from a friend who is works on these daily. MTM manufacturing in Saratoga, NY
Question answered it seems. Being a non-ammo thread, please communicate via PM on this. Thanks