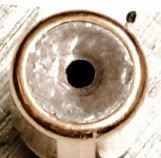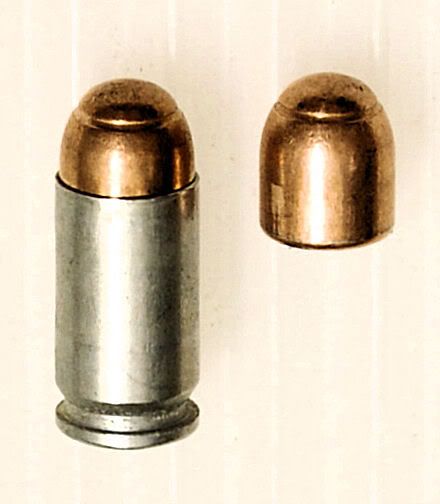 Pictured are various views of a commercial 9 x 18 mm cartridge sold under the "Silver Bear" brand in the United States. We have now encountered two boxes of these - a full one and a partial one, both of the same lot number, and filled with cartridges loaded with the projectile. The weight of a pulled bullet was 93.8 grains, consistent with the "94 Grain" advisory on the box label.
The odd features are a smooth cannelure around the tip of the bullet, and a hole in the base of the lead core that is approximately is approximately the depth to coincide with the position of the cannelure on the outside of the bullet jacket. This looks very much like a tracer bullet with an unfilled tracer cavity. However, the standard Russian 9 x 18 mm Makarov tracer is identified by a green primer seal and neck seal and has no groove around the tip. Further, they were only loaded by the Low Voltage Electric Co using Arsenal 188 headstamp, and those in
1995 (with dummy rounds known from a European Trade Show, dated 1997).
These Barnaul rounds were made in 2008, according to the lot number. The case is zinc-washed steel, and it bears the older Barnaul insignia, changed in 2009 to Cyrillic initials.
Can anyone identify this projectile as to the reason for the groove and the empty cavity in the lead core? I have heard rumors of a short-range cartridge with this groove on the bullet, and already had a picture of a fired, similarly-grooved bullet in my files, but this ammunition is NOT short-range. It is standard velocity commercial ball ammunition.
Help please!
John L. Moss
(Photos and text by JLM and cartridge from his collection)