I have recently had an LE inquery about a 5.56x45mm with the following headstamp.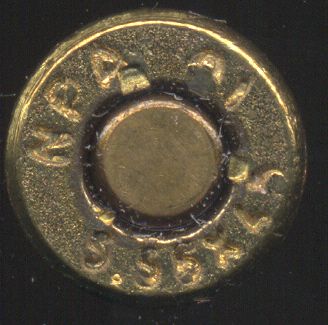 I have provided an ID based on a box below, but I have some follow-on questions that Forum members could help me with.
1. Who has made NPA headstamp ammo, in any caliber?
I know that PMP, Federal, S&B have all produced NPA headstamped 9mmP for Taiwan, and in a 2005 competition, Federal, Speer and undoubtedly others submitted 9mmP bid samples with an NPA headstamp. I have been told that more recently GFL has been supplying 9mmP with the NPA headstamp, but I have not seen, or seen a photo of an example of this 9mmP. Olympic sold 5.56mm dated 2002 with the NPA headstamp.
Do any of the Forum members know of any other NPA headstamped ammunition in any calibers??? Dates and headstamp photos would be useful
2. What calibers of Olympic ammunition exist with NPA headstamps?
I only know of 9mmP and 5.56x45mm. Are there any others???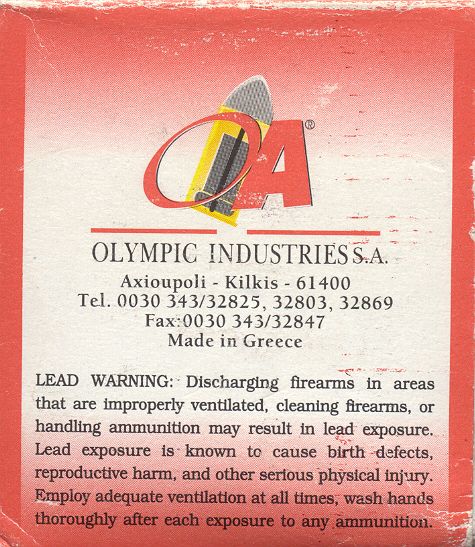 Looking at this 5.56mm headstamp. The grainy finish of the head, the letter style and the primer crimps sure make me think it was made by Iran based on the information in the following thread.
http://iaaforum.org/forum3/viewtopic.php?f=1&t=5191&hilit=EDP+Olympic
We have discussed Olympic ammunition before in a number of threads. As can be seen from the other threads below, there is quite a bit of evidence that Olympic Ammunition bought many of their components.
Is there any proof that Olympic ever actually loaded ammunition in any caliber for themselves in Greece or all the "Made in Greece" markings on their boxes all a fraud???
Does anyone have documentation on the dates of Olympic production, or dates when they were in business???
I have documented Olympic production from 1998 through 2002.
Other significant Forum entries on this subject are:
http://iaaforum.org/forum3/viewtopic.php?f=8&t=13124&hilit=EDP+Olympic
http://iaaforum.org/forum3/viewtopic.php?f=8&t=10368&hilit=EDP+Olympic&start=15
http://iaaforum.org/forum3/viewtopic.php?f=8&t=7795&hilit=EDP+Olympic
Cheers,
Lew