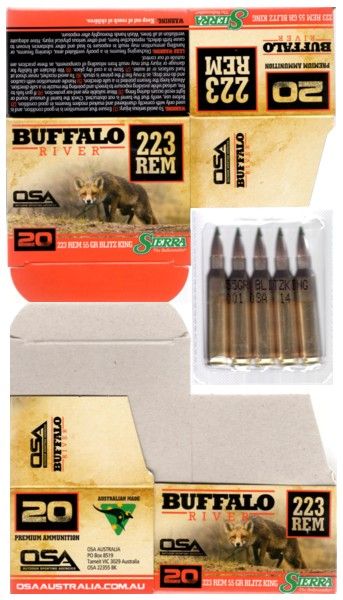 New on the Australian market is Buffalo River Ammunition from Outdoor Sporting Agencies (OSA) who are wholesalers of shooting and hunting related gear. The ammunition is assumed to be made by ADI/Thales/Australian Munitions (or whoever they are calling themselves at the moment!). Although I haven't seen conclusive proof of this, it is all adding up to ADI - they have recently expanded further into the commercial ammunition sector, the "blister pack" type packaging is typical ADI, the box size and style is ADI type, the projectiles used are also being loaded by ADI for other branded ammo (Australian Outback Ammunition) and the only large scale centrefire ammunition production in Australia is ADI or Winchester.
Interesting is the headstamp OSA 223 REM - and not an ADI headstamp as I expected. Looks like the box I purchased today is from the first lot - it is stamped 001 OSA 14 which I interpret as lot 1 for OSA in 2014.
There are currently two loads in 223 - 55gr Sierra Blitking and 55gr Sierra Game King. We are expecting 308 Win in the near future as these are currently being loaded by ADI for their Australian Outback brand. Packaging is the pictured 20 count box containing four of the air tight "blister packs". There was also an initial bulk deal of 900 rounds in a typical military style ammo can with Buffalo River OSA sticker attached. They only reached a couple of stores and sold out super quick. Hopefully more are on the way.