Who is the man specialised in Peters company ,
thanks
JP
JP–What is it you want to know about Peters Cartridge Co. While I am no expert on Peters, since Remington Arms Co. and Peters have been under the same ownership since 1934, perhaps my knowledge of Remington will help.
Hello Ron,
In fact I wanted to know somebody collecting actively Peters ctges because he surely has catalogues.
Indeed I have only one catalogue (N
JP–Peters was founded in 1887 and started making their own ammunition in 1895. The oldest catalog I have is 1896, which I think was their first catalog.
If I ever finish up my project of cataloging all the catalog entries for UMC and Remington, Peters will be my next project. I have a few catalogs.
Exactly what questions do you have about Peters cartridges.
Ron
I have a Q for you. Who was "Peters"???
Ray
It was a company making shotshells.
In July 1906 Winchester sued them for infringuement of patents.
Peters won in July 1909.
The case was carried to Appeal and Peters won definitively.
JP
The appeal decision was in January 1911, meaning 5 years later
JP
JP
I guess I wasn't specific enough. What I meant was, who was Peters, the person?
Ray
Ray–By your question "Who was Peters?" do you mean the man who founded Peters Cartridge Co. or do you mean the company? If you mean the man, he was Gresham M. Peters, President of the King Powder Co.in Kings Mills, Ohio. He started out making shotshells using other companies components in 1887. In 1889 he bought machinery to make his own shells. In 1895 he built his own Shot Tower and could then make his own cartridges with all his own components. The 1896 catalog lists .22 and .32 Black Powder rimfire under the "Quick Shot" brand name and 18 Centerfires. Under the "Peters" brand of Smokeless cartridges they list .22 and .32 rimfire and 14 centerfires with the statement "Other Cartridges of the more salable sizes will be offered as rapidly as tools and machinery can be completed."
Ron
Yeah, I meant Peters the man.
Thanks for all that good info.
Ray
I am looking for Peters catalogues from 1896 to 1954
Thanks
JP
Here is a picture of one of Peter's first shotshell boxes.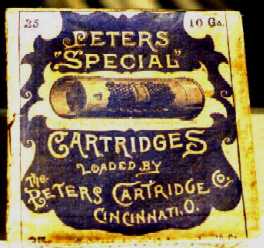 Sorry about the poor quality - I had a very low resolution digital camera at the time I took the picture and traded off the box soon after. Notice that the shell utilizes the stab crimps to hold the top wad in, which were shown in shotshell ads the company ran in the late 1880s.