Hi,
I'm hoping I've been able to download a photo from photobucket.
[/url][/img]
Doesn't look right, any advice ??
It looks like you may have inadvertently added and extra "Img" tag to the link to your photo. On Photobucket under "Links to share this photo", click in the box next to "IMG" and it will automatically copy the correct code to your clipboard. Then simply paste it into your post here on the forum - you don't have to click on the "Img" button since Photobucket already includes the correct code. It should look like this after you paste it in:
Here's your image:
I hope this helps. Feel free to PM me if you have any questions.
Thanks twoaz,
I appreciate your assistance and will be in touch if I have further troubles.
Cheers
John
Hi twoa,
Another test. The only thing I can't seem to do is reduce the size of the image. I've resized it is photobucket, but it doesn't seem to reflect here.
A great packet, John. The rounds are hard enough to find here in the UK let alone the packet!
I notice the "Z" appears to be an addition on the label. Did Salisbury ever load Cordite GII? My example is the same as the one you illustrate.
Regards
TonyE
Tony,
The MS tracer is a nice one to have. When I was active, I had only heard of them, they just weren't seen.
There was not a lot known about these MS tracers when I was collecting, but I did manage to find out the full story from an impeccable source. At the risk of boring you, herewith.
South Australia had three groups of factories, Salisbury, basically producing explosives, Finsbury, producing basic metal components, and Hendon, divided into 2 separate units for processing of metal components and completion of the cartridge. These two units were identified as MH and MJ. MJ had an annexe (I think your term was "shadow factory") for filling incendiaries.
Salisbury was not an SAA factory as such. It produced explosives, fuses and other large items, but did have an annexe for filling tracer bullets.
The projectile envelopes for G1 tracers for MH, were produced at MH, sent to Salisbury, where they were filled and finished. The projectiles were returned to MH for loading into cordite filled cases.
The components for the G11Z tracers were manufactured at MJ, and cases and projectiles sent to MS for completion. Salisbury assembled them using N.C. powder, hence the G11Z.
This also explains the MJB BV1 headstamp. The components were manufactured at MJ, cases filled with cordite, projectiles filled in the Annexe, and final assembly done in the annexe.
With the BV11, the complete cartridge was produced in the MJ factory because the incendiary filling was much less dangerous.
I have yet to see one, but I have a note in my records that at least one lot of B MkV11 cartridges had the MH headstamp.
The factory identifier on cases made here was used to identify the factory which did the final assembly, and where they were presented for Army inspection, so things are not always what they appear. Just another riddle to make life interesting for collectors and historians.
Cheers
John
edit: No, MS never loaded cordite cases.
Hello John, I had until recently an MS 44 GII. It was the only example I had come across and came from a source from the factory. It now resides in an advanced Queensland collection. I never thought at the time of investigating whether it was in fact a cordite loaded round or perhaps just a mistruck headstamp…there was no indication to the latter. There had also been talk of a MS 45 GII, but have never seen an example either in the flesh or by documentation.
Can I also add that your history of the production of the MS 303 is spot on, specifically that loading of tracer component was the only actual role that the Salisbury plant participated in. It is interesting to note that the Salisbury Explosives Factory was the largest explosives plant in Australia, starting from scratch in 1940. The effort required to build the plant in fact caused a shortage of bricks and labor in South Australia during those early war years.
regards,
Peter Cobb
Adelaide.
Hi Peter,
Thanks very much for your very interesting input.
I have always been reluctant to say a round was never produced, however, in this case my source was heavily involved for many years and had access to records we could only dream about. Having said that, I would never claim him to be 100% correct.
Somewhere is my records is a comment from Footscray about this issue, which my source says is an error. Another mystery to solve
The information about Salisbury came from a long serving employee of SAAF who visited Salisbury a number of times during the war years and had a close connection with some phases of production. (His own words). The bullets were manufactured at Hendon, sent to Salisbury where they were completed in a Delamere and Williams follow on machine. They were then returned to Hendon for completion of the cartridge.
The Pyrotechnic section possessed a powder loading machine and approximately the last 10 lots of tracer bullets were loaded into capped cases, received from MJ and had the MS monogram. Total production of tracer bullets filled at Salisbury was approximately 7 million. Only the last 10 lots were completed at Salisbury so an error at changeover time was possible.
Your comments do raise the issue of whether MS did load cordite rounds. I am sure they were not supposed or designed to do so, but stranger things have happened. The fact that the Z is overstamped on the packet also begs the question of why? In those days, with the pressure to perform, many things could have happened, such as someone thought Salisbury was to load cordite rounds, which was later seen to be an error after some cases were produced and after the labels were printed.
My personal opinion is that because Salisbury were producing all the tracer bullets, someone assumed they would be loading some or all of the last 10 lots with cordite. We may never know the answer.
We see the result of stuff ups with the change from MG to MF in 1949. An incorrect bunter was used with MF on the headstamp, this was only picked up by Army Inspection, so the factory applied for it to be changed. This is one fact of which I'm sure as I have the original documents of the event. (Not copies) Also, I think it was on the .38 Spl commercial production from Footscray, an early batch had the MF 9mm headstamp. This I have seen myself.
As I see it, the only way MS cordite loaded tracers could have been made was if the cordite loaded cartridges and incomplete bullets were sent from Hendon, which seems unlikely.
It's all very interesting. I'd love to get a photo of the MS G11 headstamp for my records. I'm trying to get a photo of every know Aussie military headstamp and to date have about 850, how many more are there ? I live in Queensland which could be convenient if the owner is OK about it.
Keep in touch
John
Hi John, went through my archives and found this photograph…I am happy to PM you with the details of the gentleman who is now the custodian…regards, Peter.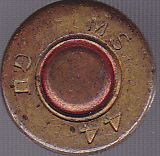 Hi Peter,
Great photo, really answers one question, and I'd love to have the details of the current custodian, thank you. When you PM is it possible to include a copy of your photo?
Now the BIG question, is it loaded with cordite.??
I guess an xray would solve the problem if it could be arranged.
Cheers
John