One of the difficult boxes for me to find was the box used by the German Navy. The Navy adopted the 9mm Luger as the M1904 pistol, though production started later. Until at least 1914 the Navy bought ammunition from DWM and had it packed in their own distinctive box. From an earlier thread, at sometime during WWI the Navy appears to have bought their ammunition in 50 round boxes, but no 50 round boxes nor any boxes dated after 1914 have been found that can be identified to the German Navy. The previous thread (on U Boat containers for 9mm ammunition) indicate that during WWII the Navy adopted the designation "P08" for the 9mm Luger cartridges. Below is a typical Navy box from DWM, this one from 1912.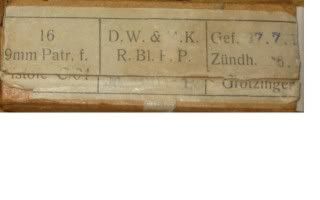 In going through some of my old photos I found a strangly marked Navy box that contained cartridges headstamped DWM K 8 10 (some marked 9 10), with "U" stamped where the loading information is usually stamped.
I suspect this marking indicated that the loading data is unknown. Can anyone confirm this or give the actual meaning of this marking?
I have forgotten where I took this photo. Has anyone out there got this or a similar box, or seen one?

Thanks,
Lew