Recently I picked up some cartridges from a local collector who was well known in the local autopistol community as a collector of both 9mm Luger pistols and ammo. He was never a member of the IAA. He passed away in January and a local gun collector wound up with his 9mm singles collection. I was surprised at the quality of a number of the cartridges in his collection. He also has a collection of cartridge boxes which also has some nice items, including a German 19rd Navy box from 1910, 11 or 12 which I am still working on, along with some other surprising boxes-mostly US. The collector had connections with MAC and the Werbell family and with American Ballistics and all the old ammo companies in the Atlanta area that went back 40+ years, and knew people like Supervel well. He did some gunsmith work and worked in gun shops of for ammo companies his whole adult life as far as I can tell.
In his collection were the rounds pictured below which I found particularly interesting. Numbers 7 & 8 are for interest. I have never seen either of these before. EO6161 is the Olin Experimental Order number. Some boxes of these sold a few years ago on gunbroker, but I have never seen a factory dummy.
Number 2 looks like a very early Extreme-Shock "FangFace" dummy although the bullet ogive is quite different from any of the Extreme Shock loads I have.
Number 3 is likely a Valet load, the version with percussion cap(??) instead of a standard primer in the bullet (Paul Smith-photos below)
The case on 4 could be German WWII but there is no hint of case lacquer, even down in the groove. The bullet is clearly not a German WWII P08 bullet.
Number 5 first struck me as an early Blazer prototype, but the one I have has the large diameter copper primer and this has the small nickel primer used in much later Blazer ammo. The bullet looks like a CCI Blazer bullet. The overall weight is within 0.5gr of that of a small primer Blazer load with the same bullet. This is probably close enough that it could be a normal Blazer round with the headstamp and primer crimp removed. (dArtagnan)
Number 9 has a large brass primer like the early Blazer prototype but like #5 lacks the primer crimp found on the aluminum case Blazer loads. The red pa and magnetic bullet are unlike anything I have seen on Blazer ammo. Blazer large brass primers are magnetic. This primer is non-magnetic. (dArtagnan)
Numbers 4, 5 and 9 all look to me as if the headstamps have been removed and the case on #4 looks polished to me-but why??? These were in the singles collection of a pretty knowledgeable collector.
Number 6 is noticeably more shiny than my tinned case proof round with the same headstamp.
232gr oaw-solid turned brass
184gr oaw-clear plastic filled primer pocket-in pen on side "IMI 9mm LUGER BLACK HILLS".
161gr oaw-tip looks like red wad with clear lacquer, not like a primer
150gr oaw-steel case-magnetic bullet
143gr-aluminum case-bullet looks early Blazer
181gr-tinned or nickel case ???-black pa.
176gr oaw-BRASS jacket bullet-EO6161 dummy??? The loaded EO6161 round weighs 182gr with a 115gr 260 alloy bullet.
171gr oaw- Squires Bingham dummy
129gr oaw-magnetic bullet-red pa
Do any of you have any of these rounds or can identify them? Theories are welcome.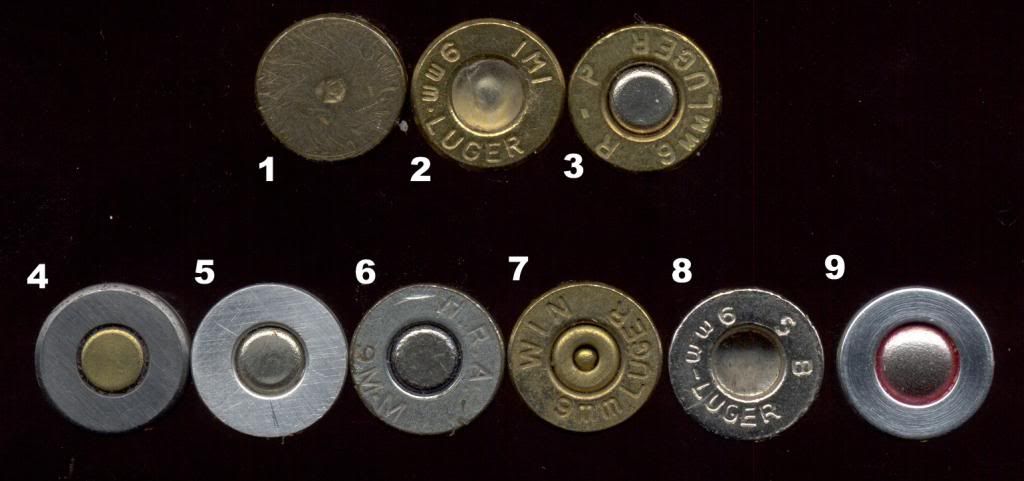 Cheers,
Lew