I recently picked up this box of ammo.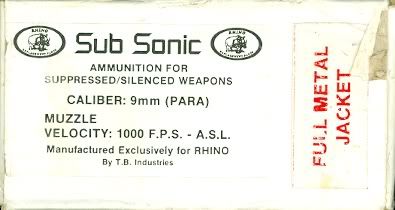 The loads have a blunt GM bullet loaded in a case headstamped FC 88 with no NATO mark. the overall weight of the cartridge is ~200g so the bullet is about 135g at max.
The styrofoam tray holding the ammo is dated on the end " AUG 10 1988" which I assume is probably the date of loading.
Looking on information, including location and address for Rhino Replacement Parts (from logo on box) and T.B. Industries who apparently made the ammunition.
Pickings on the internet are thin although at http://ammo.ar15.com/project/Handgun_Ammo_FAQnRules/ExoticHandgunAmmo.htm DKConfiguration shows a conical lead bullet with the caption "Rhino replacement parts "AP Penetraor" (actually lead bullet; it's a fake ".
Also found this quote at http://www.vpc.org/Studies/cfboom.htm
I found some other references to Rhino Replacement Parts but all second hand and no details.
[b]Who is or was Rhino Replacement Parts and where were they located?
Who is or was T.B. Industries and where were they located?[/b]
Any help appreciated.
Lew