Vlad - nice label. Appears to have been made specifically for the California State Fire Marshall (probably for distribution to rural fire services, Department of Fish and Game, and Department of Forestry).
Have never seen on before, myself. Amazing having lived all but two years of my life in the State. I'll have to keep my eyes out. Its intriguing in its use of the German "Schreckpatrone" appellation on a box obviously not intended for export.
Are these actually black powder shells? I have some similar use type shells that are made on an Active case and contain what appears to be something similar to an M80 firework (cylindrical projectile containing a silvery metallic powder) with a short piece of what appears to be the green cannon fuse in the base of the projectile. There is no powder or propellant in the case simply the primer to blow it out of the barrel. It propels the firework about 50-60 yards and makes one heck of a bang. The corrosion appears to be caused by the residue from the cannon fuse, at least in these shells. Used to be able to buy them here in NY but the New Jersey maker for some reason stopped selling in NYS. This was several years ago had nothing to do with the current infringement of rights. They were packed 25 to the box in an MTM plastic 2 piece slip type shotshell box with a label and warning label on the bottom section. I may have a box I will take a pic and post. I believe the CA fire marshall stamp is more of an endorsement or seal of approval for use in CA as the ones sold here by the NJ maker were marked as acceptable for sale in NYS as a non firework for animal control. The 109th Air National Guard in Schenectady, NY used these for bird control for a while. Now they use dogs and propane cannons to keep the geese and gulls away.
Vlad, these cartridges were marketed by Marshall Hyde Inc. starting in August 1975 and everything indicates that these were discontinued in 1983 because of the U.S. Department of Transportation, who changed the classification of this pyrotechnical cartridges to Class A explosives category (maximum hazard), which the company considered practically impossible to transport. There is a box variation that is not marked "®" and "Patent Pending" and also cartridges headstamped 12 MH 12 INC (no dots). The case and "NOC" brand primer was made in Italy by LMI S.p.A.
Here is a drawing showing the construction of the "aerial bomb" (80: approx. 10 to 15 gr of smokeless powder; 130: fuse; 110: cardboard tube; 140: explosive powder charge; 150: plastic cap):

In the 1960's and early 1970's this company also dealed with surplus ammunition:

Thanks, everyone. Sportclay is probably right, these appear to have no powder, they are transparent so one can see the firecracker, I'll post a picture later when I get daylight, I just repeated "black powder" because that's what the seller said.
Vlad - it may well be that Marshall Hyde sold this ammo to other agencies and buyers than the California State Fire Marshall, and equally possible that they left that stamp on the box as an endorsement. However, it is not generally the policy of California Government Agencies to endorse products, especially in the arms and ammunition field. I won't say, though, that it has never been done. I don't know of an instance, but anything is possible if the right Basheesh (did I get that right?) crosses the table top.
John,
I didn't mean to imply that CA endorsed it as a recommendation but that it met standards of the fire marshall.
Having the State seal of the California State Fire Marshall on boxes of ammo sold to other entities, I believe, would still constitute a de facto endorsement of the product. Of course, at the same time, Marshall Hyde could have gotten permission to simply use up an over-supply of "California Marked" boxes from California's Fire Marshall, or even used it without permission. Interesting topic, but all pure speculation without documentation either from California or from the Marshall Hyde Company, of course, including my comments.
Nice box regardless. I don't do shotgun shells, and didn't pay a lot of attention to them when I could still go to shows, but I don't recall ever seeing one. Despite my dislike of my native state, I suppose it is natural that in my chosen hobby, things relating directly to, or made in, my home state hold special interest.
US Made model rocket engines sold in the UK are marked with the California Fire Marshal approved symbol. At least they were last time I bought any (around 2007).
That looks a whole bunch like the drawing that Fede posted. There is a small charge of some sort of propellant behind the card wad. A lot more gee whiz than the NJ made shells that I have.
Vlad,
Nice item! Here is another bird scaring box from the early '90s. Stoneco, Inc. seems to still be in the business with the same phone number listed. Like the product Sportclay was describing, these came loaded in Activ all plastic cases but these were made in Colorado and were packed in a flip top plastic box.
Don't know if these had a powder charge or not, but can say efforts to replicate their performance required a small amount powder.
Dave
Edited to correct spelling of company name.
Dave,
Nice pictures. I have printed them and stuck it with my example, that someone cut out the manufactures information for some reason. My box however came with two unmarked Federal 12 GA. Extremely light at half an ounce a piece, so could be original contents.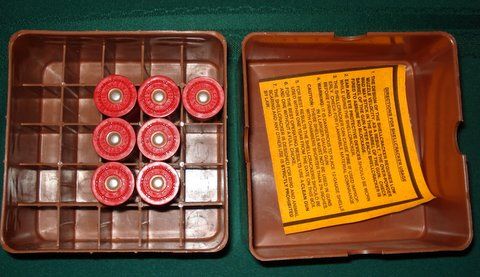 This is the box I have. The same warning label and shells. I suspect the NJ seller was just that, a dealer. He claimed to be the manufacturer. Maybe the maker cut him off and that is why they are not at the NY gun shows any longer?? No label on the outside of the box. I think I have another box that has maker info. I'll keep digging. The label refers to an over powder wad I thought I remember cutting one of these open and it had no powder?
Australia had a similar cartridge, called "BirdFrite" and also "Cattle Strike".
The Bird Frite was a "flash Bang" for scaring Birds away from Airport Runways, whilst the Cattle Strike was loaded with Rubber Pellets for use when Mustering cattle from Helicopters.
Both were Loaded by Footscray (MF) back in the 60s to 80s…I don't think ADI continued their Manufacture here after 1995 at their new Benalla Plant, after Footscray was demolished.
Regards,
Doc AV
Fede,
Again, you amaze with your seemingly unlimited store of cartridge related information. Thank you for sharing that brochure.
Joe and Sportclay,
It is interesting to see the same box with different cases and a different box with the same cases. It seems obvious that there must have been some reason to remove the original manufacturers information in both examples. Business politics, perhaps?
I must confess that the shell I showed in my box is actually a reload (not a shell cracker) of one of the original Stoneco loaded cases, shown there to represent the Activ all-plastic type. I failed to save an original example (odd for this collector) and as best as I can remember, all original issues from that box were utilized to fend off a major bird problem at the farm on the night of July 4th, 1992. As to performance of the product, I can with certainty say that no birds were seen in the immediate area after the firing of these cartridges…
Dave
Interesting thread,
I have what appears to be a very similar cartridge of German manufacture, hds 12 * 12 * 12 * 12 * ( so probably of italian origin, by Fiocchi), red plastic tube with this mark " BAM PM 1 060-062 SIGNALPATRONE KAL 12/70", although this could be technically identified as a flare, more than a "bird control" round.
Bird-control cartridges would be classified like standard ball cartridges i Italy. You'd nee a gun license to buy and use them.
There are similar devices that can be bought by everyone ( must be +18 years old) and used with a flare gun or a blank pistol.
A blank 6 mm Flobert round can launch this carton "bombs" up to 30 m, and then they explode loudly.
sksvlad
MARSHALL HYDE WAS ISSUED U.S. PATENT No. 4,457,233 ON 3 JULY 1984 FOR AN AERIAL BOMB. PERHAPS THE ORIGINAL SHELLS IN YOUR BOX WERE MANUFACTURED ACCORDING TO THIS PATENT. HISTORICALLY THERE ARE NUMEROUS PATENTS THAT HAVE BEEN ISSUED FOR VERY SIMILAR SHELLS; U.S. PATENT No. 191,843 ISSUED TO DETWILLER AND U.S. PATENT No. 216,552 ISSUED TO BOGARBUS JUST TO MENTION A COUPLE. AERIAL SHELLS AND SIGNAL LIGHTS STARTED WITH MARTHA JANE COSTON IN 1859.
Pivi, yours is a single star red flare cartridge by Zink-Feuerwerk GmbH, Cleebronn, Germany.