Visit today a collector he showed me a shotshell with some kind of razorblades inside.
At home I searched on the internet and found a picture of a shotshell that looks almost the same.
The shotshell I saw was a yellow plastic one with no printing on the shell its self. The headstamp was I think REMINGTON 20 PETERS The man told me it was a very rare cartridge today but he didnt exactly know what it was.
Could it be the one shown in the picture.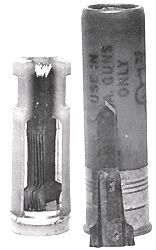 451kr.