I thought this may be of interest to some. Came home today to a Fedex box on my porch with cartridges taken by Customs from a box sent to me in October of last year. I can't remember how many forms and phone calls it has taken to get these, but it was a lot. They were always nice and polite. The box was sent from Europe and the customs form was marked "gift". There was a note inside listing the contents and a statement that they were inert. Cases with no bullets and unrelated items were not taken. The box had green Department of Homeland Security Tape on it when it arrived.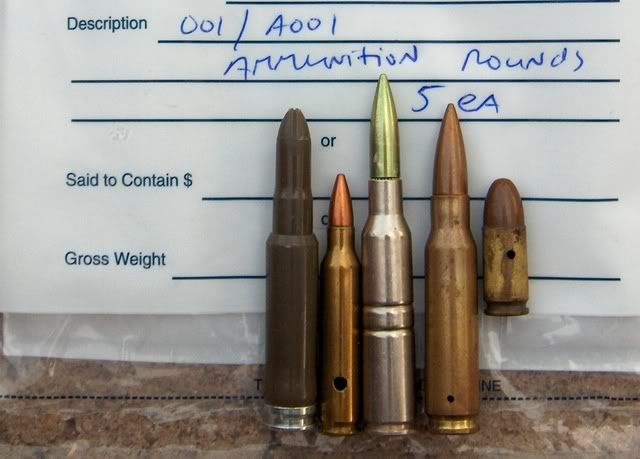 The "ammo molds" were my personal favorite.

In the end, these were the ones they had a problem with. I filled out paperwork giving permission to drill holes in the cases. It looks like most of the bullets were pulled with pliers and shoved back in the cases. Not as bad as you may think I guess. You can't tell from the photo, but the chrome 9mm is a fluted dummy with dented primer. The 7.62 Tok has a dented primer. Not sure of the original condition of the 243.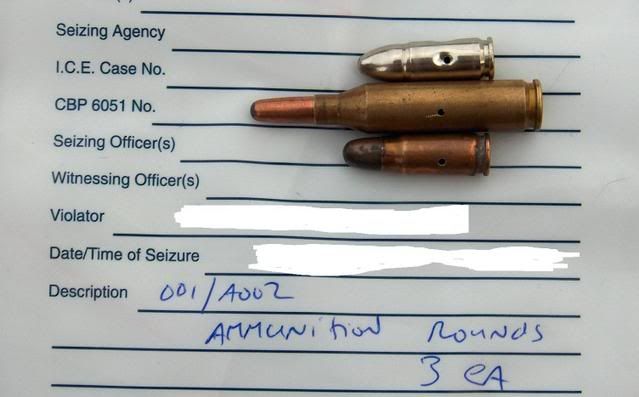 Not sure what lessons to be learned from here. I don't know if they would have done it anyway if they would have been declared on the customs form. DON"T SHIP "ammo molds" from overseas!!!