About 20 or more years ago, the Agency had a truly silent 9x19 produced. The concept was similar to one used many years ago on a truly silent 30-06 cartridge. The cartridge case had a second brass case/liner silver-soldered inside. The space between the two cases was filled with powder. When fired, the inner case/liner expanded down the barrel and mechanically pushed the bullet out the bore. The inner case encapsulated the gases from the burned powder so no gases went down the barrel and the only sounds were the mechanical sounds of the firing mechanism and the barrel moving down the barrel.
Below is a photo of the loaded cartridge, the fired case and the bullet. These are not in my collection, though I do have a fired case.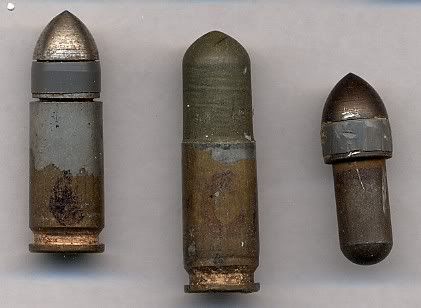 The original bullet was truncated. This development is at least 20-30 years old, and probably older, going back to Vietnam. The cases have commercial R-P headstamps.
Cheers,
Lew