I came across a small boutique seller of custom cartridges called Silver Moon Ammo today They are out of Plant City, Florida.
http://www.silvermoonammo.com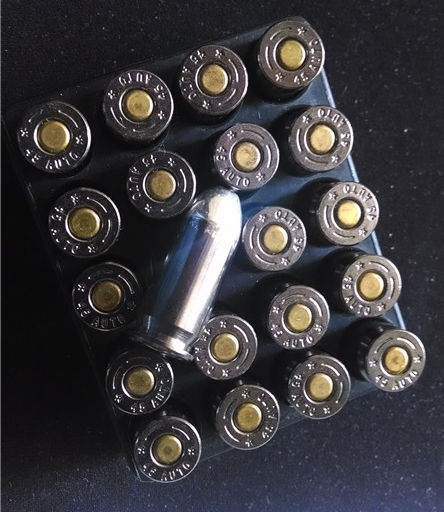 They specialize in selling decorative wooden boxes with small numbers of presentation cartridges with an angle on mystic folklore. So far they only have .45 auto, but intend to have more calibers. The cartridge cases are coated in what they call "black nickel", and the bullets are silver plated. This is reminiscent of the silver-plated bullets on the .357mag cartridges from Coonan in their "Triple Threat" kit with the vampire stake. As it turns out, Silver Moon is getting these .45 cartridges from Atomic Ammunition, the same place that Coonan is with their .357 stock. Atomic Ammunition has grown quite a bit lately with some large national contracts, to the point where they no longer sell direct to the public. They list Cabelas, MidwayUSA, and Cheaperthandirt as their only dealers, but I have seen it at Walmart as well, and Walmart has the best prices of the 4. None of these places, or the Atomic website show this silver-plated stuff, so this is a special side project apparently.
The Silver Moon guy is also selling his factory seconds .45acp on Gunbroker:
http://www.gunbroker.com/Auction/ViewItem.aspx?Item=391437099