We all have our own way of listing and sorting our cartridge collections but I have recently been experimenting with some ways to have a totally portable, easy to use catalog that fits in your pocket ready for use.
The first thing I have tried is simply uploading photos of individual packets in my collection to my phone using the usual iTunes/iPhone method. I already have them all scanned or photographed and stored on my computer as a pictorial catalog. The photos need to be named in a consistent way to make the order they appear on the phone to be logical. There are some little things that can cause problems but the result is ok when it comes to keeping it all organised (once you have sorted out the precise method and tricks of the iphone!). Where this is really great is that all of the pictures of your packets are available whenever you need them.
So you are at a show and find a nice packet on the table but you are not sure if it is a variation of a similar one in the collection. Reach into your pocket and pull out your phone, open up the photo album and flick through the thumbnails in the 'AMMO' folder.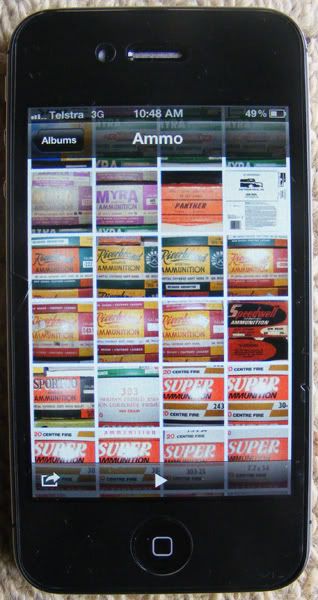 Once you find the packet it is a simple touch of the screen and it brings up the full size pic.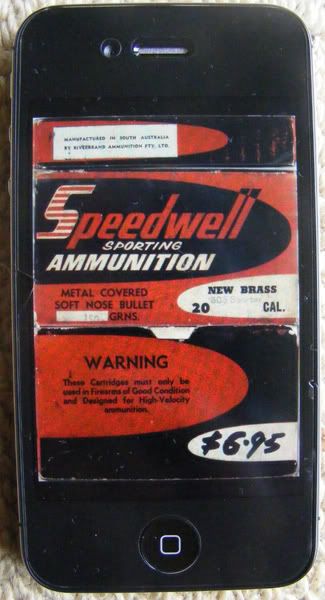 Then another touch of the screen zooms in on any detail which might be important. Plus the image can be rotated for a better view simply by turning the phone on its side.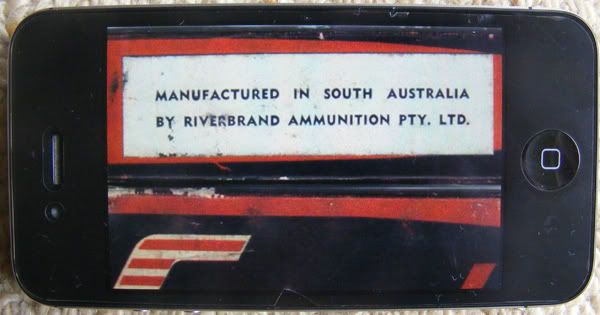 From this I instantly know if the packet I have found on the table is in my collection or whether the condition is better than the one I already have.
This method will potentially become unwieldy with large collections but there may be "Apps" (basically computer programs for your phone) that can be downloaded to assist with sorting photos on the phone.
I have also downloaded an 'App' that is a collectors database but haven't got any of my collection loaded into it yet. It will import a certain file type (that can be created in excel) via WiFi. I have converted my individual cartridge catalog to the right file type and set it out as per instructions but need to get onto a WiFi network somewhere to test it out.
If it works out, it will allow me to check headstamps and other details of individual cartridges in my collection.
Has anybody else experimented or perfected Smartphone/iPhone catalogs yet? I would be interested to hear any results or failures as this is potentially the way catalogs will be heading in the future.
Paper hard copy catalog --> Computer catalog --> portable laptop catalog --> smart phone catalog --> ???