Since I've already learned a lot on the GD SOC box, I decided to try again.
Have this empty box that is identical to the SOC box, except for the end label and the product number on the barcode on the back. It also has a commercial label on the side from "Bullseye Safety Edu. Ctrs." and a price of $17.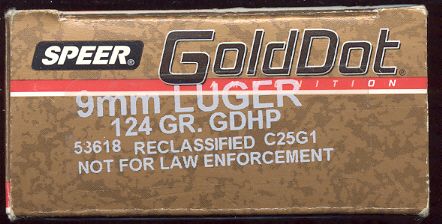 My guess would be that it was excess or substandard LE ammo, perhaps from a special order, that was reclassified for commercial sale! Interesting end label in any case.
Does anyone have any info on this label.
Cheers,
Lew