I have a pretty good selection of date and lot numbers from Mansfeld A.G. (fb) from WWII-about 45 specimens. Based on these it appears that fb produced the following, all with the fb St 5 42 style headstamp:
Brass case-124gr blt-brass pri —Lot 1 & 2 of 41
Steel case-124gr blt-brass pri —from lot 1 of 41 through lot 2 of 43
Steel case-black mE blt-brass pri —from lot 5 of 42 through lot 9 of 43
Steel case-GM mE blt-brass pri —from lot 1 of 44 through lot 11 of 44
Steel case-black mE blt-zinc plated steel pri —from lot 3 of 44 through lot 1 of 45
These are aside from the weird stuff like a lacquered steel case 41 with a casemetal code and a couple of brass case rounds from 42 with steel case headstamps and such.
I was going through an old collection and the four rounds pictured below stood out. They are lots 3 & 4 of 41 and 4 & 5 of 42, with black mE bullets and steel primers. There is no evidence of a black primer sealbut my other fb loads with a black mE bullet also lack a primer seal.
These are so far outside the rest of the fb loads I have that I have to question them. They could be a mix of old cases loaded at the end of 43 or early 44 with the initial 08/40 steel primers Mansfeld received and the last of their black mE bullets, and all could have come from the same box. They could be fb cases loaded by somebody else who was using the steel primers earlier. Without a box label there is no way of telling.
All are in pretty good to excellent shape and there is no evidence of tampering or reloading.
Has anyone else seen similar loads with fb headstamps?
Am interested in your thoughts.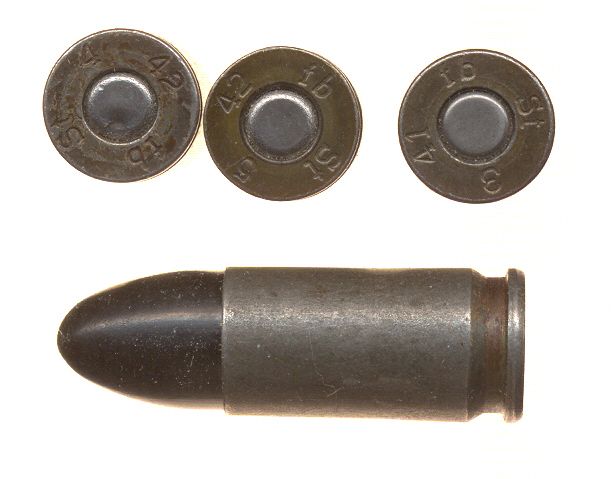 Cheers,
Lew