Who was Ted Williams?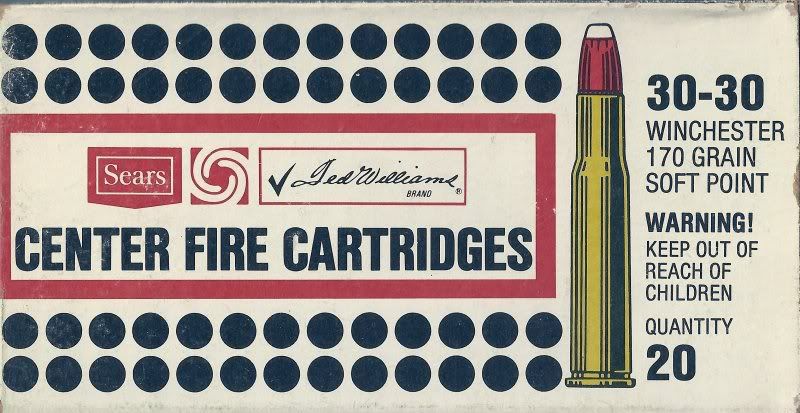 Vlad - my son, who is a fanatical Boston Red Sox fan, would fall on the floor if he read your question.
Ted Williams was one of the great Baseball players of all time, and played for the Boston Redsocks. I am not a baseball fan, and don't know all the particulars (my son could tell you his DOB, lifetime batting average, etc. ad nauseum - much like we do with cartridges). However, I know that despite the reognition of him as a great player, he could have improved his statistics and had even a greater record, but his career was interrupted twice by combat - WWII and Korea. He was a Marine gighter pilot. I do not know if he actually saw combat in WWII, but he certianly did in Korea.
It took some of his potentially best playing years away from him and out of the record books.
Sears, remember, sold a whole line of sporting goods, not just arms and ammunition, at one time. I suppose they still sell some. Ted Williams was a sponsored line of those sporting goods, and his name on baseballs, bats, gloves, etc. spilled over onto none baseball sporting goods. I hope it made him some money - his service to America deserved it.
As long as we are on the topic of Sears Roebuck and Co. ammunition, who whas J.C. Higgins? (the Sears guy before Ted Williams)
Ted Williams was later, also a salesman for Sears. My wife Gaye met/saw him several times in her late husbands gun and ammunition shop in Marlow NH.
edited to correct a screw-up
SCREW-UP ALERT, seems I screwed up. Ted Williams was not a salesman for Sears. Apparently he had a friend, or he had property near Marlow and he visited the shop to buy hunting ammo.
Sorry about that.
Ted Williams was one of my heroes as a kid and even more so when I started shooting. Unfortunately, his family has besmirched his memory with their bickering and fighting over his remains.
Ray