Who is the maker of 45 auto ammo headstamped " TRA 45 ACP" ?
Picture:
The TRA headstamp was manufactured by Arms Corporation of the Philippines, Parang, Marikina, Metro Manila, and was imported into Germany by Transarms Handelsgesellschaft. They came in a plain-white box with black print with the top label in English but the side labels in German. Mine is from lot number MSH-01V-91K. Unfortunately, there is no location given for Transarms anywhere on the box, and I don't know where they were (are) located. The box I have has a handwritten price on it of "32.-" which may be Marks. I forget when the Euro came in. I think this ammo is from the early 1990s. I have had mine for a very long time.
Thanks John,
I have just searched in the IAA forum archives and found an old question by Bob Reubel asking info about the same round.
Reported TRANSARMS address:
Transarms Handelsgesellschaft GmbH
Kueferstrasse 17
D-67522 Worms-Pfeddersheim
Germany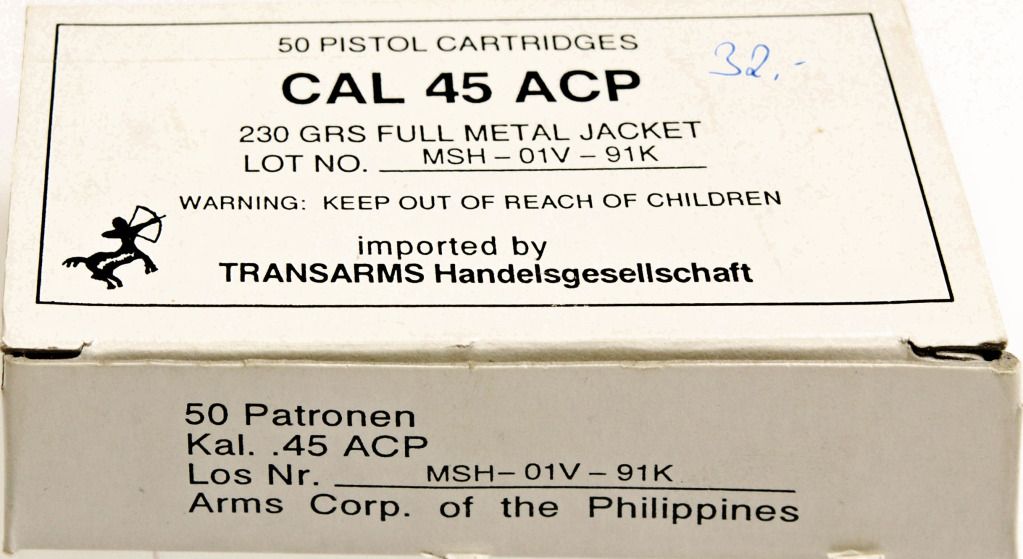 Box for the TRA-headstamped .45 Automatic round from Armscorp of the
Philippines Corporation. Note English language on the top label, and German
language on the side label. Funny they bothered with the German for two
words and an abbreviation.
Box and photo John Moss
The current adress is 67547 Worms, Im Winkel 6…and they are still in the ammo and gun business…
Forensic
by the way, they also had imported from the Philippines 30M1 ammo in similar white boxes…but headstamp was AP 30 CARBINE…