Interesting. I think these actually fit at the end of an M4 barrel and only the projectiles come out.
The first 2 lines are the most important:
Right to left: RIFLE GRENADE
Right to left: RUBBER BALLS
Harry, this is not a rifle grenade but a canister containing rubber projectiles for anti-riot use. It was made and designed by IMI and originally intended for the Galil rifle, although, as mentioned by Jon, it was later used in AR-15 type rifles. There is also a similar design loaded with flechettes and having a propelling charge incorporated in the tube.
Here is a picture from a catalog showing this canister beside three rifle grenades and special 12 round magazine for grenade blanks:

i think this is the same structure? sorry about the upside down image I did this on my I-pad and not quite as easy as with a mouse in hand with my PC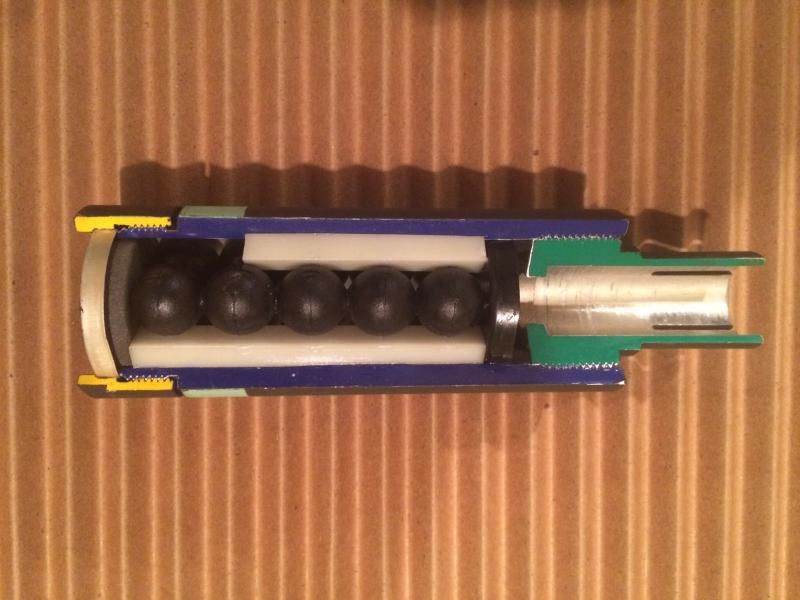 Pepper, I've seen a similar unit in IDF service (longer and thinner) that contained 15 rubber cylinders, I believe. If I recall correctly, you got the one or two cylinders that I had.
Pepper, this is the US Army version designated M95 and made by Alliant Techsystems. It was designed to be fired using the M195 grenade blank. Also, at the time this specimen was made (1998) it was still an experimental "XM" item, despite the designation stenciled on the container.
Is mine basically the same as Gyro's?
Yes, it has basically the same construction, if that is what you mean.