Would anyone happen to know the approximate time frame that U.M.C. used the "S H" designation in their head stamps?
I checked the on line UMC catalogs (thank you!) but did not find any reference.
I do have a copy of the Marlin 1897 catalog and the .44-40 cartridge illustration does show that designation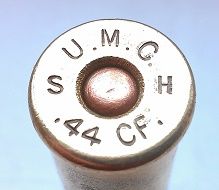 Thank you for your help.
John