The attached photo illustrates some GFL loads recently documented. If anyone has any information on any of them, please let me know.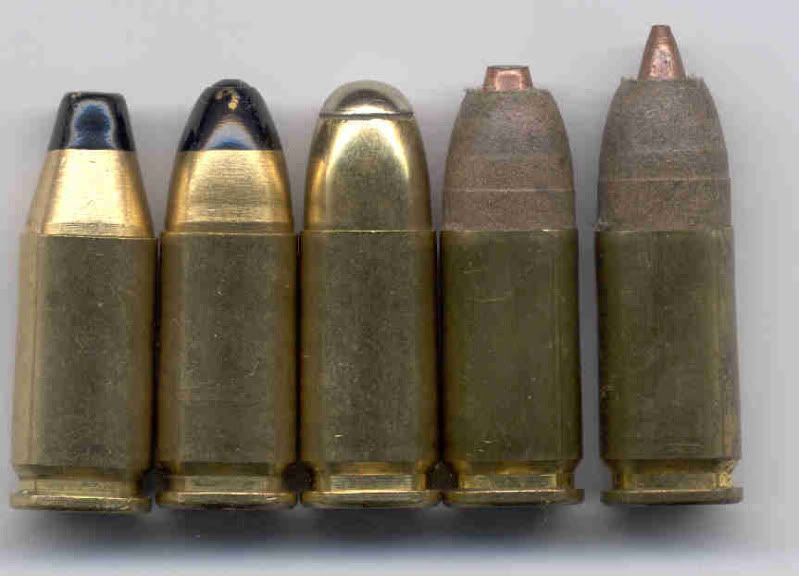 Far left: Commercial GFL headstamp-170gr oaw-turned brass bullet-magnetic-apparently has a magnetic core-reportedly experimental or preproduction
2nd from left: Like the round described above but with a RN bullet-160gr oaw.
Middle: This is apparently a production round. Described as zinc core-black primer-commercial GFL headstamp. bullet is magnetic from tip to about 2/3s of the way down to the casemouth. The tip appears to be steel/iron and is very magnetic. Bullet described as TR124. overall weight is 190gr so it is probably a 124gr blt. What would "TR" mean,
2nd from right: This is a frangible load with the normal GFL 9mm 92 headstamp. There has been a 4.5mm hole in the tip with what looks like a rifle bullet inserted. the bullet tip has been cut off flat exposing a magnetic core.
Far right: Identical to the round described above, but without the bullet tip being cut flat.
The latter two bullets are represented as being from a GFL lab???
Any thoughts on these loads would be appreciated.
Cheers,
Lew