I wonder if the headstamp has 005 at 9 o'clock and 10 at 3 o'clock.
Here are a couple others to add to this list: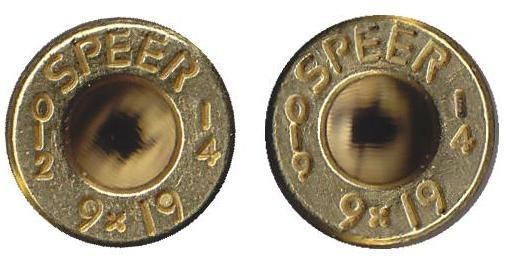 Found in a mixed lot of processed fired cases which are described here: http://iaaforum.org/forum3/viewtopic.php?f=8&t=17863&p=129733#p129733
Several more headstamps for the list, the top headstamp in the picture is dated 09 (2009):
Brian
Does anyone know in what type of box & product/item code and bullet type(s) these are being marketed by Speer in the U.S.?
Here in the center of the U.S I have seen a number of fired cases recovered from firing ranges, but when I ask people if they have seen a box or loaded rounds no one knows anything.
I can find listings for the 50 round box - 9mm Speer Gold Dot 124 grain Standard Pressure LE Hollow Point with product/item code 53618. One picture (blurry) on the internet of a cartridge from a box with the 53618 code showes a standard commercial Speer headstamp.
From the above posts, the bullet types listed are 115gr FMJ and 124gr HP???:
Form the boxes John Moss posted (see picture below, on the right), the bullet weight is listed but the bullet type is not listed.
[quote="Lew"]From John Moss.
The two boxes on the right column are more germane to this thread, as
they are for two different agencies - the National Police and the one
above it for the Administration for Penitentiaries (the French Prison
System). They are for the Speer ammunition that has a 124 grain Gold
Dot bullet, a Speer headstamp, and the oddly-place three-digit lot
numbers and dates at the 9 o'clock and 3 o'clock position on the
headstamp, respectively.
Photo by and boxes from the collection of John Moss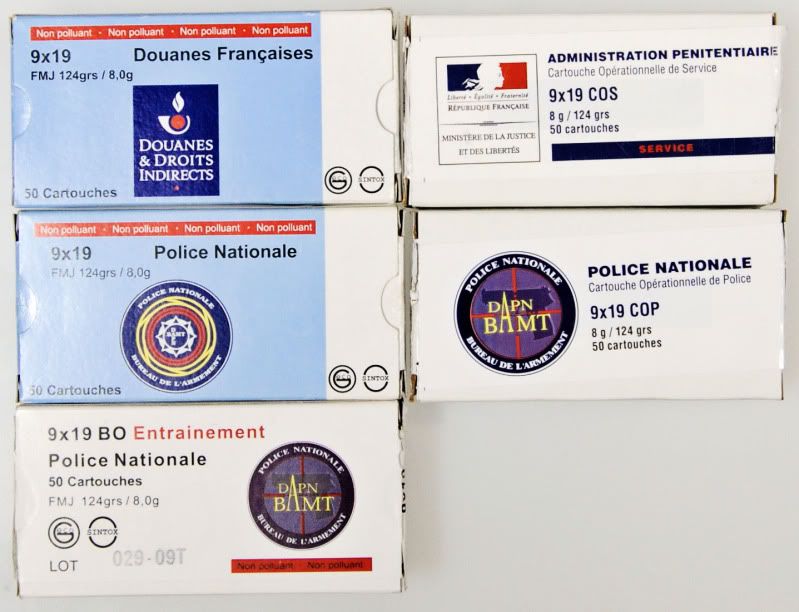 Lew[/quote]
From the picture of a box provided by Domi, the loading designation is "CART 9x19mm GDHP 124 grs ET LT" and I assume "GDHP" stands for Gold Dot Hollow Point. The Speer 2013 catalog and 2010 LE catalog only list hollow point loadings in their offering of Gold Dot pistol ammunition.
[quote="domi"]Here is the "Gendarmerie" one for the GD Speer

Domi[/quote]
Any help would be appreciated.
Brian
Hi Brian
the two box on the right column from John Moss and my box are all for Speer Gold Dot Hollow Point 124gr.
Domi
Domi,
Thank you for the conformation on bullet type and weight.
Here is a write up on the news release, dated June 16, 2009, from ATK announcing the selection of Speer 9mm Gold Dot ammunition by France as the new service ammunition for the French Police, Gendarmerie, Customs and Corrections Agencies: prnewswire.com/news-releases … 27672.html
Brian
Just got this in, lot 1, 2016 dated headstamp, nickeled case. On the end flap is "A01X22", I assume this is a date code.
Brian
Very interesting Brian. Nice find!
Joe
Sorry for the old thread bump, but wanted to add some info to this mystery ammo.
About 2 years ago I purchased a 250-round "bulk pack" of Speer Gold Dot hollow point, 9mm, 124gr. Interestingly, it arrived in a generic white box that had a bunch of UN markings on it. It is also brass cased (not nickel plated) and the brass was pretty dirty looking. Here's what each side of the box says:
side1
"CENTERFIRE AMMUNITION
AMMUNITION ACCESSORIES INC.
CCI/SPEER OPERATIONS
LEWISTON, ID 83501"
side2
(BLANK)
side 3
"CENTERFIRE AMMUNITION
CARTRIDGES,
SMALL ARMS
UN0012
1.4S
Made in U.S.A.
Fabrique Aux E.U.
Trademarks Reg.
U.S. Pat. Off."
side4
"CENTERFIRE AMMUNITION
CARTRIDGES,
SMALL ARMS
UN0012
1.4S
UN 4G/Y4.7/S/11
USA/M5547"
Also, my headstamps are (going clockwise) "SPEER 11 9X19 025"
Oddly, I cannot find these boxes or that lot code anywhere now. Like I said, I bought this online about 2 years ago. I can't remember the retailer.
hello
i had the chance to see these service rounds on "gendarmerie nationale"
it : speer 9x19 16 (i don't read the other numbers)
I noticed a listing at Sportsmans Outdoor Superstore today which showed the contract style headstamp in a box of Gold Dots - the same lot as what Brian showed above. This website actually has a good deal of police trade-in ammo, which is always interesting.
https://www.sportsmansoutdoorsuperstore.com/products2.cfm/ID/49866
I received an order from Sportsmans Outdoor Superstore with the Speer 9mm box as mentioned above, but the headstamp was not the 001 code as shown in their website listing, it is 043 with a date of 15:
Also, it looks like Sportsman's is a sister company to Vance's Law Enforcement which distributes only to police - including L.E. ammo that is often harder for the general public to acquire. This explains all of the lot number headstamps, frangible ammo, and various L.E. ammo in 50rd boxes which they have as department trade-ins, which I guess are dumped from Vance's to Sportsman's for retail resale.
A friend ordered in a case of Independence (Federal) 9x19mm 115gr FMJ and I found the following headstamps:-)
99.97% of the rounds had the SPEER 17 9x19 037 headstamp.
Brian
This is the headstamp style that started with the French Police -
several different branches of it. IIt has also shown up with LE boxes
for Norway and Denmark, I believe.
The mixture is probably because these were likely overruns of cases
for various LE use originally. By the lot numbers and years made,
there must be hundreds of them if one collects lot numbers and dates.
John M.
Looking in a box of Ten-Ring brand 9mm ammo recently, and found that they all had these 2017 Speer headstamps. The ammo was actually 124gr Gold Dots, and on this sort of Speer brass they appear to simply be factory seconds from Federal which were repackaged by Ten-Ring.
This is simply a continuation of their contract-style headstamp initially made for the French Police, and beginning with the prototype headstamo "000 09". This is lot 18 of 2017. Since then, this style has gone to other agencies, as well as occasional showing up in commercial boxes.
John Moss
Here is a new one that showed up in a recent 1000rd case of bulk-packed Independence brand 9mm+P FMJ. It was odd enough that this was +P FMJ and even better that it was some overrun of this style headstamp. 044 18
Interesting.
Look closely at Brian's pic above of lot "018 17". It appears that the "1" in "018" is upside down.
Not important, just interesting.