This is a sectioned US M774 APFSDS-T round fired from the M68 Tank gun fitted on the M1 tank. It is significant in that it is the 1st US adopted 105MM tank fired DU round (that I know of).
It is crimped into a steel M148A1B1 case and uses an ELEC M120 primer which travels up the center of the case stopping 7.5 inches from the top.
OVERALL VIEW


PROJECTILE CLOSE-UP (sectioned side)

PROJECTILE CLOSE-UP (non-sectioned side)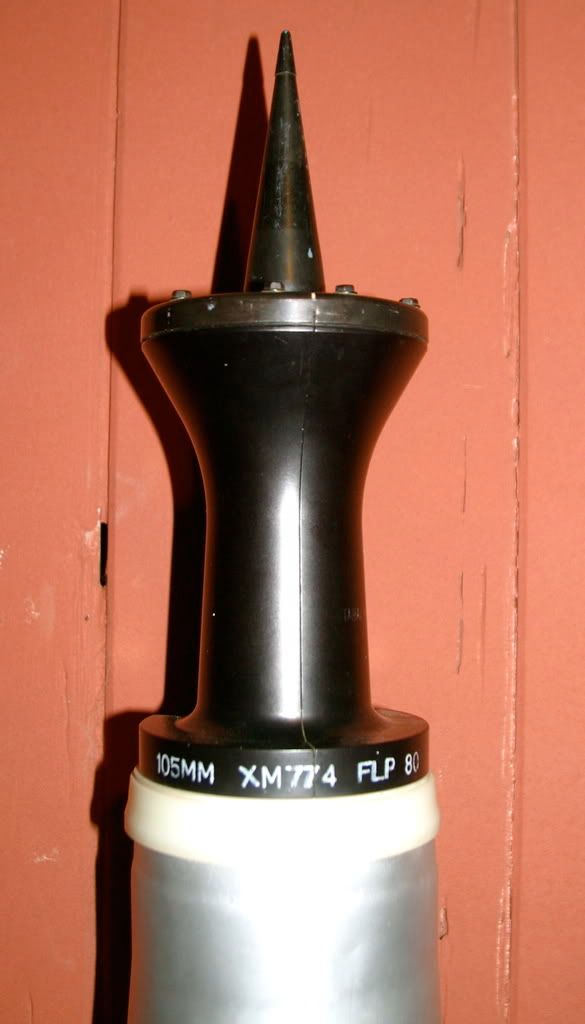 As with all sub-projectile ammunition of this type, the military experimented with various width to length ratios of the dart. This picture shows how US 105MM APFSDS-T ammunition has fluctuated over the years. (Disregard the blue round which is German made as a TP round equivalent to the US made tactical M735 APFSDS round on the far left)
LEFT to Right / Oldest to Newest
Blue Round German, US M797 TPFSDS-T black paint scheme, US M797 TPFSDS-T blue paint scheme, US M735 APFSDS-T Tungsten Sub-Projectile, US M774 APFSDS-T DU, US M883 APFSDS-T DU. Not pictured, and the only US 105MM APFSDS I don't have and am on the hunt 4 would be the M900 APFSDS-T round. The M900 is the last US 105MM APFSDS-T made and used by our forces until the M1 tank was turned into to M1A1 using a 120MM German made main gun. I think it is now made under license in Egypt?