Who is the "man" about US Co shotshells ?
Thanks
JP
the book The Black Shells by Windy Klinect is a font of information
Are shotshells factory drawings or gun chambers gauges drawings inside ?
Or tables of manufacturing dimensions (rim thickness, aso) inside ?
(Pre 1920 of course, after that year there is no interest, they have standardised dimensions)
JP
JP,
It does not have any factory drawings or dimensions. It includes a history of the company and the different shells produced, and drawings of the headstamps, topwads, and side views with measurements of shell variations in collectons that had been reported to the Shotshell Historical & Collectors Society.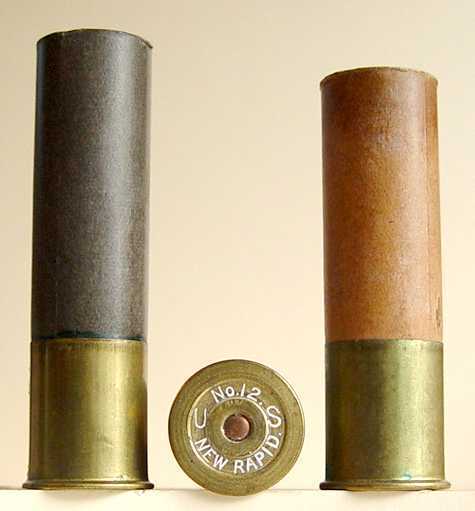 Thanks Guy!
somebody told me he shows a price list of 1881 talking of 11 and 15 gauge.
If yes do you have a scan ?
thanks
jp
JP–I just went though the U.S.C.Co. 1881 catalog and the only shot shells mentioned are 10ga and 12ga. Brass. The listing is as follows:
No. 10, 2 5/8 to 2 7/8 inches $0.10 each
No. 12, 2 1/2 to 2 5/8 inches $0.10 each
They are listed as "Solid Head Re-loading" using No. 1 Primer.
J-P,
I did not find such a price list in my copy.
I have this one, it is because of that I am interested in the book.
but Guy says there is nothing;
i will ask to the guy who told me that. He surely mistook
Thanks Ron and Guy !
I must absolutely find documentation on the early all brass 13 and 15 gauges (umc and others)
JP
JP-Page 12 of the U.M.C. 1880 catalog lists a 15ga. Brass shell. Check your files for this page as I think the page I have was sent to me by you. If not, I can send it to you if you want it.