Base on Erlmeier-Brandt I had identified the following as a 5.6mm Velodog Short. A recent thread say the catrridge picture in Erlmeier-Brant was actually a 6mm Francotte.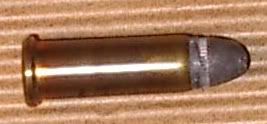 Rim: 0.306" 7.78mm
Base: 0.250" 6.35mm
Case lenght: 0.712" 18.08mm
Cart. Lenght: 0.952 24.18mm
Bullet 0.224 5.43 mm (at case mouth)
Is this a Francotte? If so when was it made and by who?
Thanks,
Paul
(Sorrry about the poor photos my camera doesn't do well with macros.)