I have two different boxes of Winchester 38SPL 147gr JHP and am wondering if they are indeed the same load.
The first is a 'White Box' with product number Q4266.
The second is a silver Super-X 'Subsonic' branded box with product number XSUB38S.

Interesting that the subsonic box also has this painted over and restamped lot number.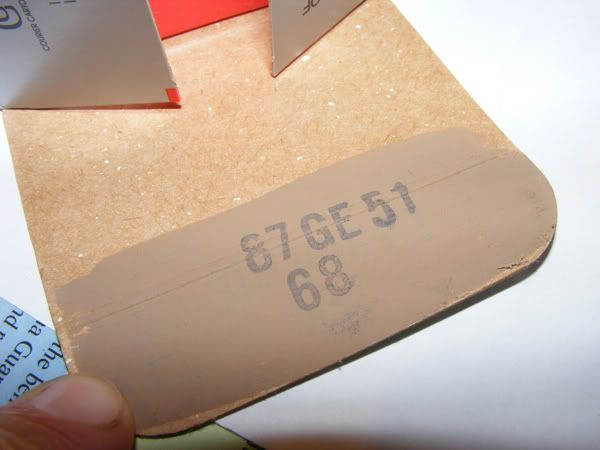 I have found this Winchester description of the white box load
[quote]Winchester 38 Special +P+ (147) JHP
Symbol: Q4266 – Winchester Jacketed Hollow Point
Shellcase: 38 Special +P+ brass shellcase
Bullet: 147 grain (9.5 gram) Jacketed Hollow Point
Diameter 0.357 inch (9.07 mm)
Powder: Clean burning, low flash
Primer: Winchester non-corrosive primer – boxer type
Accuracy: Product Mean of 2.50 inch (6.35 cm) Extreme Spread
5 shot targets at 50 yards (45.7 m) from a 7.71 inch (19.6 cm) SAAMI test barrel
Velocity: 975 ft/sec (297 m/s) nominal at 15 ft (4.6 m)
Fired in a 7.71 inch (19.6 cm) standard SAAMI test barrel
Energy: 310 ft-lb (420 joules)
Pressure: 20,000 psi max. average (1,379 bars)
Waterproofing: Lacquer applied to primer annulus and Black Lucas applied to mouth of case
Q4266
REF: WI607
INFORMATION PUBLISHED HEREIN IS SUBJECT TO CHANGE AT MANUFACTURER'S DISCRETION WITHOUT NOTICE.
PRODUCT INFORMATION SHEET #309
Rev. - 10-27-2006
OLIN CORPORATION • WINCHESTER DIVISION • 427 NORTH SHAMROCK STREET • EAST ALTON, IL 62024-1197
TELEPHONE: 618 258-2000 • WEB SITE: winchester.com
[/quote]
The white box load is used by our State Police while the subsonic box also came from that source and held the same service loads however the usual box is the white box (this single subsonic box is the only non white box the officer has seen in around ten years).
Secondly, there was a projectile change a few years back from an exposed lead nose, hollow point to a hollow point with the jacket extending right to the hollow point. I think this was a change to the Winchester projectile line up rather than a choice by the Police. Does anybody know when this change took place?