To follow up on an October 2009 forum discussion about these loads (http://iaaforum.org/forum3/viewtopic.php?f=8&t=7285&hilit=xm668)…
I recently dissected an XM668 45acp and an XM260 38spl load to photo and measure their components with the following results:
XM260 38spl =
Has 4-piece opaque tan sabot with white silicone matrix containing steel shot. Three obturating components consisting of a white plastic cup/disc on the bottom (with the open side facing down towards the propellant), topped by a steel disc, which is in turn topped by a flat white plastic disc that contacts the bottom of the saboted projectile. Headstamp is "Western 38 Super" with red primer seal and nickel-plated brass case.
OAL = 1.540"
Payload OAL = 1.040
Payload weight = 127.0gr
Central silicone shot matrix projectile weight (without sabot) = 109.0gr
XM260 cartridge:

XM260 complete assembled payload & projectile (looks swollen due to loose sabot pieces):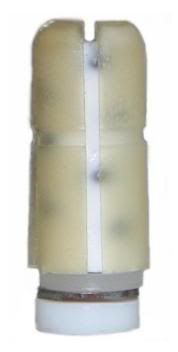 XM260 payload components:

XM668 45acp =
Has the same exact visual characteristics as the XM260 and would appear to be the same exact thing as far as type, but with two small differences. One is the lower obturating disc/cup is black, and the other is that the shot in the silicone matrix is non-magnetic.
OAL = 1.250"
Payload OAL = .837"
Payload weight = 113.5gr
Central silicone shot matrix projectile weight (without sabot) = 88.0gr
XM668 cartridge: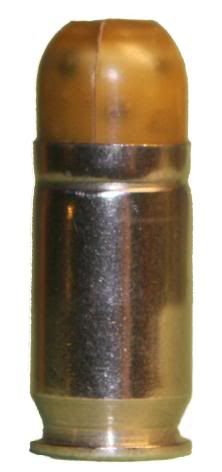 XM668 complete assembled payload & projectile: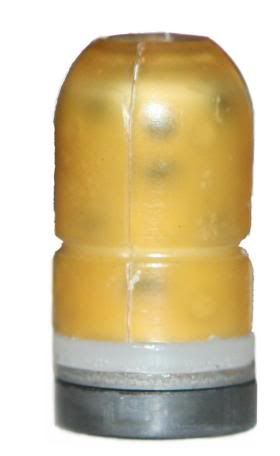 XM668 payload components:

I was surprised to learn that the 38spl projectile's silicone shot matrix weighed more than the .45acp version since the .45 version is visually much larger. The shot pellets in the 38 do appear to be larger pellets though. I only know that the XM668 .45acp "has 16 #2 lead shot, each about 0.150 in diameter and weighing 5.0 grains" - from a Bob Leiendecker article in the Cartridge Trader issue #241, Jan 1976. This information would suggest that the shot pellets make up 80.0gr of the total 88.0gr of projectile weight, and that the silicone is only 8.0gr which sounds reasonable. My next step will be to melt down the .38 projo and measure & weigh the pellets to see what they are all about.